22nd November 2018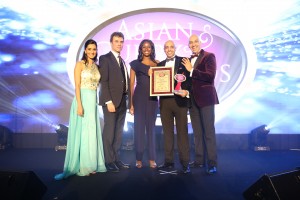 Left to Right: BBC's Bibita Sharma, Tom Brake MP, Cara Lui, Just East, Ajmal Mushtaq, Tommy Sandhu, BBC Asian Network
Restaurateur Ajmal Mushtaq, who  runs the eponymous Mushtaq's Restaurant in Hamilton in Scotland – officially the largest takeaway operation in Britain – when featured on BBC2's Best of British Takeaways programme – has praised his staff, for retaining the prestigious Just Eat Best Takeaway In Britain accolade for the second year in succession at the Asian Curry Awards this week.
"My wonderful team deserve this great award. There is an incredible amount of hard work, skill and quality control that goes into making every meal the very best it can be and for Mushtaqs to be recognised at the highest level was a great achievement," said Ajmal, adding, ""It was overwhelming when it was announced that we had won the title of being the Best Takeaway in Britain.  This is great news for Hamilton and we are just honoured to have put Hamilton on the culinary map once again. We are really grateful for the love and support we have received from the people of Hamilton – they are the best!"
Last year Ajmal was named Scotland's Chef of the Year at the Food Awards Scotland in August, beating off competition from the best fine dining and Michelin trained chefs in the country.
Asian Curry Awards chairman Yawar Khan said: "The standard of takeaways in across Britain continues to rise and it is an honour to be recognising Mushtaqs at the pinnacle of this industry. They run the most impressive takeaway service that I have ever seen.  The judges were really impressed by Mushtaqs and their very high standards of hygiene, efficiency, flavour of food and their important role in the community."
Reflecting the pride of the entire kitchen team, Mushtaq's Head Chef Garry said, "I am just so delighted for the team. The competition was very tough indeed and this award is testament to the great work that goes on behind the scene. – to be recognised at the highest level in the industry is a truly special feeling."