The Asian Catering Federation (ACF)
Uniting the Asian Food Industry
The newly formed Asian Catering Federation brings together organisations and personnel within the Asian food industry and works in tandem with the Federation of Bangladeshi Caterers UK, the Chinese Takeaway Association UK and the Malaysian Restaurant Association.
Vision of ACF
The ACF will strive to deliver real returns for our members within the Asian catering industry, help them to find financial success, achieve excellence, and build customer loyalty. For the Asian food industry, we aim to unite Asian caterers on one platform; campaign for greater recognition; achieve members' common goals through partnerships with government and other organisations; provide help with training, and create rewarding careers in Asian catering.
2018 events – Do not miss
Date
Event
Monday 5th March 2018
Asian Catering Federation Gala Dinner and 1st Asian Restaurant Awards 2018
Hilton Manchester Deansgate Hotel, 303 Deansgate, Manchester.
Tuesday 13th March 2018
Networking Dinner – Official launch of the 8th Asian Curry Awards 2018 and the 2nd Asian & Oriental Chef Awards 2018
the Cholmondeley Dining Room & Terrace, House of Lords, Palace of Westminster, London SW1A 0PW
Monday 26th March 2018
Edinburgh Road Show
Hilton Edinburgh Grosvenor Haymarket, 5-21 Grosvenor St, Edinburgh EH12 5EF
Tuesday 8th May 2018
Belfast Road Show
117 Miltown Road, Shaw's Bridge, Belfast www.cpbelfast.com
25-26th September 2018
Takeaway Expo
Excel Exhibition Centre, Sandstone Lane, London E16 1XL
17th October 2018
Official launch of Asian Hospitality Federation of Europe
Hosted by Amjad Bashir MEP
Clos du Parnasse 3A, B-1050 Brussels, Belgium
www.ahfe.eu
Sunday 18th November 2018
The 8th Asian Curry Awards
The Great Room, Grosvenor House, Parklane, London
Media Partners
SPECIAL OFFER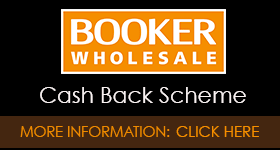 To see all products and services, please visit
www.booker.co.uk


call: 0208 647 8036
---

call: 0800 085 3761
---
Asian Catering Newsletter
Register to our newsletter to receive all the latest news.