20th November 2018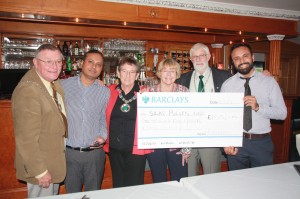 The award-winning Rajdani Indian restaurant in West Kingsdown near Brands Hatch in Kent for the has raised over £1500 for childhood brain cancer research.
The lunch on Sunday 18th November, organised by Cllr Patricia Bosley, Chairman of Sevenoaks District Council, was attended by 83 guests including Chairman of Sevenoaks District Council Deputy Mayor and Mayoress of Medway, and other senior councillors.
Money raised has been donated to the Silas Pullen Fund. Silas was a boy of 10 when suddenly he began to have headaches and on investigation it was discovered that he had a brain tumour.  His parents, who live locally in Kent, were then told that the cancer was inoperable and he only had about a year to live.  Silas died when he was just 11.
Silas's mother set up the fund to raise the profile of tumours in children and money for research supporting a global trial, costing £75,000.
Commenting lunch, restaurant owner Rob Khan said; "We love hosting charity events here at The Rajdani – it's such a great feeling to hear the funds going towards a good cause.
"It always fun inviting the community and we always received the solid support from our regulars,"
Since becoming Chairman in May, Cllr Bosley has now raised more than £10,000 towards the target.
"It was a fantastic day – super event – everyone had a wonderful time and we raised the fantastic amount of £1556," said Pat Bosley," adding a great big thank you to Rob and the staff of the Rajdani for an excellent meal and for the amount we raised."
Tickets for the buffet lunch, with lamb, chicken, vegetarian and vegan dishes, cost £15, including a glass of wine, beer or soft drink.  The full amount was donated to the charity by the restaurant which was named Best Indian Restaurant in the South East at the Asian Curry Awards last year.