25th September 2016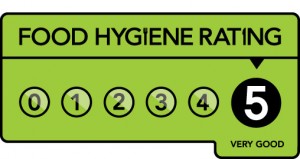 Poor Hygiene Proceedures at One in Seven Takeaways 
One in 13 restaurants –  and one in seven takeaways in the UK have failed food hygiene inspections because they are dirty or have poor procedures and record keeping.  Food hygiene reports for more than 460,000 businesses found almost 30,000, 6.4%, had failed their inspections, including more than 7,000 takeaways and 8,000 restaurants.
The Food Standards Agency (FSA) data revealed huge food safety problems in some areas of the country, with some local authorities failing more than 20% of food outlets and about 50% of takeaways and sandwich shops. The FSA ranks all food providers with a score of zero to five. A zero rating signifies the establishment "urgently requires improvement" – about 1,400 businesses currently have this score. Between zero and two is considered a failing grade, and three to five is satisfactory. The ratings criteria are the same across England, Wales and Northern Ireland and each local authority is responsible for ranking food providers within its boundaries.
Scotland uses a different system, awarding a grade of "pass and eat" to premises that exceed legal requirements of hygiene, "pass" to those that are broadly compliant, or "improvement required". The analysis revealed huge disparities in hygiene levels around the country, with some local authorities failing large numbers of food establishments and others failing only a few. The ten best areas in the country, ranked by the proportion of food premises that pass inspections, were the Orkney Islands, north Devon, South Ayrshire, Torridge, Harrogate, Cannock Chase, west Dorset, Suffolk coastal, Anglesey and Daventry. The ten worst areas are Newham, Edinburgh, the Shetland Islands, Islington, Hyndburn, Harrow, Hertsmere, Midlothian, Luton and Ealing. The scores also varied across countries and regions with 10% of outlets in Scotland have been awarded a failing grade (improvement required), compared with 6% in England, 5% in Wales and 2% in Northern Ireland.
www.scoresonthedoors.org.uk