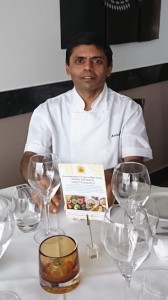 Awanish Roy, Executive Head Chef, Saffron Summer Restaurant
Tell me about the restaurant and your food.
Saffron Summer is an Indian fine dining restaurant which caters to the leafy suburbs around Cobham, Oxshot, Esher in Surrey. We serve modern and innovative Indian food in a luxurious yet relaxed surrounding. We also offer and fine dining version of some traditional British curries
Who taught you to cook? Who were your biggest influences on your cooking?
Actually, I started cooking very late when I went to a hotel school and then realized I want to pursue a career in cooking. One of the early influence was a book on Indian cooking called 'Prashad' by Jiggs Kalra which was co-authored by some of the top Indian chefs of their time. I was also very lucky to get an opportunity to work with some of the best names in the industry in India and UK.  Each has influenced me one way or the other.  And then there was Marco Pierre White's 'White Heat'.  Since being married my wife has also influenced my cooking. She is a terrific cook and we constantly exchange ideas and try new things.
What was it like to work in some of the world's top kitchens?
It's such a great experience where one learns a lot! You have some of the best chefs working around you, who are thorough professionals with the best work ethics. The minutest details are taken care of and everything has to be spot on. It's intense but it's fun.
How did you come to be a business partner in Saffron Summer?
I was looking to do something of my own after all these years and came in contact with Ralph Souza, who was also looking to open a restaurant in London. We got along well, decided to collaborate and came up with the concept of Saffron Summer. Ralph is a hotelier who is currently busy opening two 5-star hotels in Goa, in India.  He also owns restaurants in India and Portugal.
Describe a typical working day.
In the morning, I check the quality of all the fresh produce that has been delivered.  I also call the suppliers and check what is new and fresh in stock. This also give me an opportunity to negotiate prices of seasonal produce.  Partly because of the fall in the value of sterling because of the uncertainties Brexit thing, the prices of almost everything has gone up by 20 to 30 percent.  Some have even by 100 percent, so it's vital to control costs.
Then I'm on the stove helping the team with marinations and cooking –  ensuring the quality and consistency.
During service I am on the pass to ensure smooth and timely service. interacting with the customers and listening to feedback.
What do you do on your day off?
It's a 24/7 job so even on the day when I am not at the restaurant, I bring home a lot work. But having said that I always watch the Victoria Derbyshire programme on BBC News with my morning tea.  It covers such a wide range of topics.
My family has just moved to India for a period, so I chat to them on Skype, check with the children how they are doing at school – which is a completely new experience for them after being born and raised in London –  and how they are adjusting to life in India. I miss them so much!
Who do you most respect in the industry?
I've been  incredibly lucky to have worked in some of the finest kitchens and worked some of the best chefs who were mentors. I respect and admire each one of them. But if I have to name one person, it has to be Vivek Singh, my boss at The Cinnamon Club for 8 years.  He is an inspiration to so many of us.  He can be a hard taskmaster but gets the best out of anyone.
What made you decide to embark on a career in fine dining?
It happened by chance.  The Indian markets had just opened to the world as I finished my A' levels when I came to choose a career path. A lot of international hotel chains were opening 5-star hotels across India. My late father who was a doctor by profession and had a thriving private practice. He could have pushed me to follow in his footsteps, but he sensed an opportunity in the hospitality industry and encouraged me to pursue a career there. He was a man well ahead of his time. I enrolled myself in a hotel school and I decided that the kitchen is the place for me.
What is your signature dish?
The Pondicherry duck, which is a grilled Gressingham duck breast served with a coconut and pepper sauce, cous cous upma and chilli-pear chutney. It is the best seller at Saffron Summer.
What is your favourite piece of kitchen equipment?
It keeps changing (LAUGHS)  …  the current favourite is the Thermomix.  You can practically do pretty much anything with it. But my all-time favourites are my Japanese kitchen knives, they are such a brilliant piece of instrument. I have a vast collection of them and still get tempted to buy more.
What makes for a successful restaurant?
Quality delivered consistently with a brilliant customer service. That's it.
What future plans do you have for Saffron Summer?
We have started looking for a second site but also watching the Brexit scenario unfold very carefully. Let's see how things are going to be after March 2019 and we will take a view from there.
What advice would you give to a young person considering a career in hospitality?
It's a very challenging industry which has long unsocial hours, which can drain you physically and mentally,especially when you are at the start of your career.  My advice will be to put your heads down and work sincerely, give it all you can, listen and learn from anyone and everyone, keep a cool head because it gets very frustrating at times and you will see eventually reap the rewards.
Away from work, where do you like to eat?
I like trying different cuisines.  So I go to Latin American, Thai, Japanese and Italian restaurants whenever I can. For special occasions we go to Hakkasan (my wife loves Chinese, having grown up in Kolkata which has its own Chinatown), Zuma an several Mayfair restaurants.
My daughter really likes dosas, south Indian rice pancakes and my six-year-old son likes any food which is colourful.  So, when they are around, we often visit Croydon or Southall, which has few good South Indian restaurants
If you were in the condemned cell, what would you chose as your last meal?
This is quite a condemned question itself but if there is no choice and I have to choose my last meal, hands down, it has to be my mum's cooked okra bhaji, aloo paratha and her magical raw mango pickle with some yoghurt. I have grown up eating these dishes and have very fond memories and can challenge anyone to cook like her. For the dessert, I would go for the hot gulab-jamuns from the local sweetmeat shop of my hometown Ranchi, India.