4th December 2018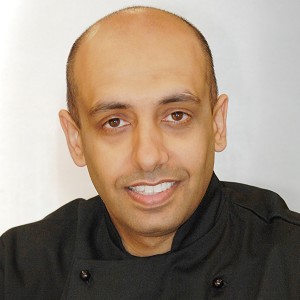 Ajmal Mushtaq
Ajmal Mushtaq, the owner of Britain biggest takeaway restaurant, Mushtaqs in Hamilton in Scotland, has warned that over a third of the country's independent takeaway restaurants will disappear from our high street within five years.
Despite the dire warning, Mushtaq, a former City management consultant, remains remarkably upbeat about the prospects for the takeaway sector.
The sector as a whole is thriving as more customers are ordering takeaways, than ever before, according to Mushtaq, who predicts there will be a huge shake out, which will see many of our long-established favourite curry house go out of business in the coming years.
He cites multiple reasons for the demise of these family-owned business.  The shortage of chefs and rising rents and business rates have been well reported.  Many curry house owners find that their own children eschew the opportunity to take over the reins of the family concern, in favour of a professional career in accountancy, the law or medicine.  Long, antisocial hours deter many of the younger generation are turning their back on the hospitality sector – despite the opportunities for intelligent, ambitious graduates
"The main reason these businesses will fail will be their inability to keep ahead of the technological advances in this sector. The rise of aggregators such as Just Eat has shed a positive light on this multibillion pound industry. This is now attracting hundreds of millions of pounds of new investment into this sector from companies such as Deliveroo & Uber Eats. It is going to be hard for a traditional operator to compete on technology. The problem will be further compounded by the rise of dark kitchens owned by the likes of Deliveroo. These kitchens are usually set in industrial estates that operate multiple food brands from one site
Before opening his own restaurant, Ajmal Mushtaq – who has degrees in Law and Masters in Corporate Finance– spent just under10 years working in London for Accenture, the world's largest management consultancy. He was responsible for delivering multi-million-pound business improvement projects for FTSE 100 companies.
He then sought to apply modern business processes to his own restaurant, transforming it in to the multi-award-winning establishment, which is now officially the biggest Takeaway Operation in Britain.  The Hamilton operation, employs 60 staff, serving a meal every 15 seconds at peak times.  Orders are cooked 'from scratch' using from raw, fresh quality ingredients and delivered within a 3-mile radius, inside 29 minutes.
This is achieved by deskilling the cooking process.  Mushtaq likens his operation to an F1 pit team, compared to say, Kwik Fit.  An F1 team will change a set of tyres inside 4 seconds, whereas Kwik Fit will probably take half an hour to do essentially the same job.
F1
The difference in F1 is having a large, high functioning team, with each member performing one simple task, in perfect harmony.
Asked how he motivates and retains staff, Ajmal replies, "It's straightforward.  We're closed lunchtimes, and every Mondays and Tuesday.  They turn up Wednesdays, refreshed and raring to go.  Out last order is 10pm, so the working hours are short and favourable. We have regular meetings, training, great benefits and
"As for the future it's only a matter of time before someone launches a serious Indian curry high street chain. I predict it will be one of the larger online aggregators, UberEATS, Just Eat or Deliveroo. And they will replace the small independent with management, slick marketing and consumer relevant technology.
"These companies don't need two takeaways on every high street. They need one industrial kitchen, on an out of town business estate, catering for all popular cuisines."
This said, Mushtaq urges takeaways to get into bed with the aggregators, because "they are the future", but insists that operators build their own customer database and engage with it.  Mushtaq has a 12,000 strong database with which it communicates on a weekly basis.
Confident in the strength of the sector, Mushtaqs is planning to expand the business. A major announcement is expected in a month.
Despite his business background, Mushtaq as the Head Chef insists it is a food-led business. Which accounts for the string of awards. It was recently crowned the Just Eat Best Takeaway in Britain at the Asian Curry Awards, a title successfully defended for the second year running. Ajmal was crowned Scotland's Chef of the Year at the Food Awards Scotland in August last year where he beat off competition from the best fine dining and Michelin trained chefs in the country.
Mushtaqs is officially the biggest takeaway operation in Britain and has featured in BBC2's Best of British takeaways. Mushtaqs has also featured on BBC 1 and Channel 4.
Ajmal has won Chef of the Year at the Food Awards Scotland 2017/18 and Scotland's Chef of the Year at the Scottish Curry Awards 2017/18.