27th November 2017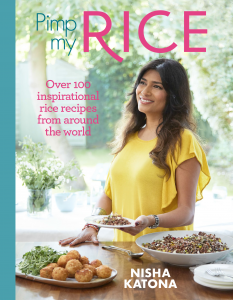 Nisha Katona, owner of Mowgli Street Food, and cookery writer, is relaunching her Pimp My Rice cookery book, costing £20, which features over 100  "vibrant, zingy" dishes.
The contemporary recipes in this book "reinvent" rice, with Peanut & Potato Flattened Rice to Lamb Coriander Koftas and Chilli Ginger & Mango Crumble utilizing different methods of cooking it and embellishing it with everything from chilli to chocolate, cardamon to Kahlua. 
The Kick-Starts Section touts a range of blinged-up breakfasts – such as as Creole Breakfast Cinnamon Fritters – while Light Fantastics offers starters, lunches and other munchie busters, including Black & Red Boudoir Salad. The Main Grain section features fantastic world feasts – from the fiery Vietnamese Hell Rice to the more delicate Lebanese Rose Petal Rice, and options for Souped-Up Sides include a Thai Wild Rice Salad or Indonesian Coconut Rice. Have a Happy Ending with sensational sweet treats and try exciting new inventions like Black Rice Sorbet with Cinnamon & Rice Doughnuts. This is a book of seriously pimped-up rice recipes.
Nisha Katona is a food writer, Indian Cookery teacher and founder of food restaurant chain, Mowgli Street Food. In 2015, Mowgli was named the number one restaurant in Liverpool by The Liverpool Echo. She has since launched Mowgli in Manchester, Birmingham and Leeds. Her recipes have also featured across the national press, appearing on Lorraine, BBC Radio 4's Kitchcen Cabinet,  in The Metro, The Independent and The Times.
Nisha Katona has a huge global social media following—she runs Twitter Curry Clinics and has over 25k followers.
Professionally, Nisha has worked as a Barrister for over 20 years in the area of Child Protection. In 2008 the Department of Culture, Media and Sport appointed her as trustee of National Museums Liverpool and in 2009, the Cabinet Office appointed her as an Ambassador for Diversity in Public Appointments and has been engaged as an expert advisor by The Guardian newspaper.