6th December 2017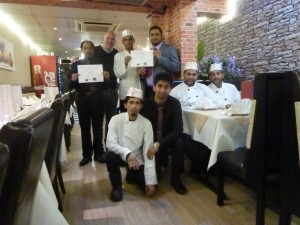 The winners of this year's Greenwich Curry Club Awards, sponsored by Goa Premium Beer and held in association with the Greenwich Visitor – a local newspaper, which publishes a regular curry column – have been revealed
All the winners were chosen by local curry lovers, who voted online for their favourite restaurants and takeaways, except for the Goa Beer Greenwich Curry Club Special Award, which was chosen by members of the Greenwich Curry Club.
Restaurants and takeaways Greenwich, Maze Hill, Blackheath, Westcombe Park, Lewisham, Ladywell, Deptford, New Cross, Charlton in south east London were eligible.
The Darjeeling in Lewisham scooped the main award, being named, the Greenwich Curry Club's Favourite Restaurant for 2017.
Darjeeling owner Foyeg Kazi, who has been running the restaurant for 15 years, said: "We have a loyal following so it is thanks to them we have picked up this award. I'm thrilled for the team and we will keep working to serve up good quality food at real value prices."
Darjeeling also won the award for Restaurant Offering Outstanding Value, an award they have now won three times.
This is the first year the awards have been sponsored by Goa Premium Beer, a gluten-free pilsner, brewed in Indian, that is ideal with spicy food, has sponsored the Awards.
"Thanks to the support of Goa Beer we have enjoyed our best ever Awards and are delighted that they joined us in celebrating the restaurants, takeaways and staff that make this such a great industry in our area," said Daniel Ford, founder of the Greenwich Curry Club.
Mogul Home Dining Kitchen, located along the Trafalgar Road in Greenwich, picked up the Favourite Takeaway award. This year Mogul celebrated its 40th anniversary. Its Home Dining Kitchen opened in 2011 to offer a dedicated takeaway service.
Mountain View, also on the Trafalgar Road, was voted as the Restaurant Offering Outstanding Service.
Kasturi, Charlton's "classy" Indian restaurant, announced its arrival onto the local scene by picking up the Favourite New Restaurant award.
Members of the Curry Club decided that this year's Goa Beer Greenwich Curry Club Special Award should go to the Royal Nepalese in Westcombe Park in recognition of its outstanding main dish Langtang Lamb. This succulent Himalayan dish, cooked with garlic, ginger, green chilli, fresh mint and mango chutney, had even the grumpiest of members cooing in delight and that in itself is worth an award.
"The Greenwich Curry Club Awards are an excellent initiative, recognising the merits of best local curry houses and encouraging ever higher culinary standards," said Goa Premium Beer MD Ben Parmar, who added, "We applaud Daniel Ford's endeavours and hope other areas of the country will take Greenwich's lead and organise their own, similar local awards scheme".
Darjeeling will host a celebrator dinner for up to 50 regulars on 23rd January, serving with a special £15 3-course meal including a complimentary bottle of the award-winning Goa beer.