10th November 2016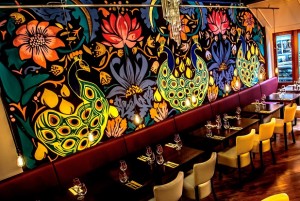 Nutmeg restaurant has opened in the chic Clifton Village area of Bristol, on the site formerly occupied by Posh Spice.
The menu has been inspired by all 29 states of India and uses local produce, much of it sourced within a three-mile radius.
Head chef Arvind Pawar is from Delhi and each dish refers to its Indian state of origin, from Mirchi masala chicken (Mumbai) and Goan-style pork chops vindaloo to sea bass Jal Tarang (West Bengal) and tandoori quail from Madhya Pradesh. There is a wide selection of meat-free choices, including Gujarati-style vegetable biryani.
Nutmeg is set across two floors, including a mezzanine dining area, and offers draught Kingfisher beer and Thatcher's Gold cider alongside wine, liqueur coffees and cocktails, including post-dinner options such as mango and gin Martini and spicy pineapple margarita,
Nutmeg not only takes inspiration from the 29 states of India but embraces the spirit of Bristol and aims to source ingredients from within a three mile radius – with meat coming from the prestigious Ruby & White.
Owners Raja and Charlotte will also be stepping away from traditional dishes served in Indian restaurants by introducing dishes such as pork chop vindaloo and beef madras.
"I grew up in a village in Southern India and I was always the cook in the family so my life has been shaped by my experiences with ingredients and flavours," said Raja, who added, ""I've gone from sleeping under tamarind trees while helping my father in rice fields, to working in restaurants for the last ten years, and now opening my own restaurant.