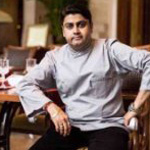 Rohit Ghai, the former executive chef of JKS Restaurants, is to head up a new fine dining Indian restaurant in Mayfair in the space once occupied by short-lived Le Chabanais.
Jamavar London will open in Mount Street in mid-November. It will be the sixth Jamavar restaurant and the first outside India.  There are other Jamavar sites in New Delhi, Bengaluru, Chennai, Goa and Mumbai. Owned by Indian firm Leela Palaces, Hotels and Resorts.  J

amavar has sites in New Delhi, Bengaluru, Chennai, Goa and Mumbai. Leela Palaces, Hotels and Resorts is run by co-chairman and managing director Dinesh Nair, and daughter Samyukta.
Named after the 16th century shawls of Kashmir, Jamavar first opened at the Leela Palace Bengaluru in 2001.  Since then, the restaurant has received  international plaudits, with Jamavar in Bengaluru being named among the World's Top 10 Power Dining Spots by Forbes USA.
The restaurants promise a "holistic approach" to Indian cuisine, ranging from the flavours of the royal kitchens of the North to options from the rivers and shores of the South.  Ghai, who will be executive chef of Jamavar London, was most recently in executive chef at JKS Restaurants, which operates Michelin-starred Gymkhana and Trishna.  He will spend six weeks researching Jamavar in India and will work to ensure that the concept, while reflecting the essence of its Indian siblings, is adapted to suit the palate of London diners. London meus will feature smaller sharing plates.
Set across two floors, the restaurant takes its inspiration from the Viceroy's house in New Delhi. There will be a private dining room for eight diners overlooking the garden.
Le Chabanais, was the London outpost of Paris restaurant Le Chateuabriand.   However, chef Inaki Aizpitarte and his team returned to Paris soon after the launch. It then became 8 Mount Street which closed after just eight months.