5th October 2016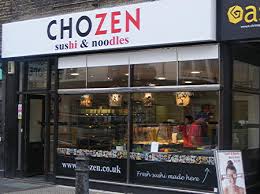 Chozen Noodle, the fast casual noodle bar brand founded by Matthew Kirby and John Dodds, is to open a prototype unit in Oxford this month, its 25th site. The store in George Street will feature a made-to-order sushi station and some new hot food offerings.
There is also to be a double unit at London's Excel centre in late October, its sixth opening this year. Regarding further expansion
We are still looking for new sites but want quality locations in good footfall areas and this remains a real challenge, even though we can take on retail (A1/A2) sites," said Kirby who reported a third venue was also in the pipeline for sister brand Chow Asian Kitchen, which launched this year in partnership with motorway services operator Moto.
The first two Chow Asian Kitchen sites – at Reading West and Leigh Delamere – had been well received, with a third planned for early 2017.  "It's probably a bit more Thai-orientated in terms of the dishes served but the core menu still has a wide appeal," he said