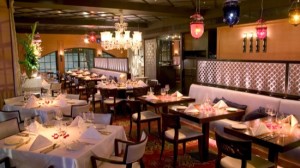 3rd October 2016
Veeraswamy has ended a 90-year wait and finally received a coveted Michelin Star. The UK's oldest Indian restaurant, it was opened in 1926 by Edward Palmer, a retired Indian Army officer and the great-grandson of an English general and an Indian princess. In its early years, Veeraswamy served Anglo-Indian cuisine, but in recent decades, based on the popularity of authentic Indian food in the UK, has served a menu of regional Indian cuisine dishes from Punjab, Lucknow, Kashmir and Goa. Palmer founded E. P. Veeraswamy & Co. in Hornsey in 1896 to promote Indian foods under the the 'Nizam' trademark.
In 1924 Palmer was engaged by the restaurant in the Indian Government Pavilion at the British Empire Exhibition . Restaurants at the Exhibition were a monopoly of J. Lyons, but the Indian Government reserved the right to use Indian cooks. The official Indian Government report said, "The Indian Restaurant with its curries drew large crowds, and at lunch and tea time on most days long queues formed up at the entrance." Of Palmer it says "his selection [as adviser] was happy, and the success of the Indian cafe was largely due to him. The Indian cafe was not only appreciated by Indian visitors to Wembley who were able to get their vegetarian food, but was very popular with the British public." The restaurant served an average of 500 dishes a day.
Veeraswamy in Regent Street was not the first Indian restaurant in Britain (one had been opened by Sake Dean Mahomed in 1810, or the only one in 1926, but it was the first high-end one, and one of the first to cater to a largely European (though mostly ex-Indian Civil Service and Indian Army) clientele. It was the first to cater to European royalty. The first ever curry in a can was introduced under Veeraswamy Food Products brand in the early 1950s. Veeraswamy is currently owned by the Chutney Mary group.
Notable diners at Veeraswamy have included Winston Churchill, King Gustav VI of Sweden, Jawaharlal Nehru, Indira Gandhi, Charlie Chaplin and Ian Sinclair.[1] Sir Abdul Qadir dined at the restaurant in February 1939, when the menu consisted of Mulligatawny Soup, Kashmiri fish, Chicken Madras and suji halva.
Michelin Guide's inspectors wrote: "It may have opened in 1926 but this celebrated Indian restaurant just keeps getting better and better! The classic dishes from across the country are prepared with considerable care by a very professional kitchen. The room is awash with colour and it's run with great charm and enormous pride."
At the London ceremony for the Michelin Guide Britain : Britain and Ireland 2017, Bao (Sri Lankan) and Hoppers (Tawainese) both in Soho, and Gunpowder (Goan), were awarded Bib Gourmands, which are given to the best restaurants serving 3 courses for less than £28.