6th October 2016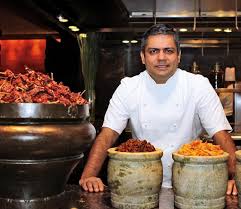 The Cinnamon Collection, acquired by Boparan Restaurants earlier this year, has announced its  Cinnamon Bazaar concept.  The Cinnamon Collection has  plans to roll-out the Cinnamon Kitchen and Cinnamon Bazaar brands in London and the south east. Cinnamon Bazaar will offer an "accessible and relaxed all-day concept, serving modern Indian food with global influences".
The 90-cover, 3,100 square foot restaurant will open in Covent Garden, at the end of November. Spanning  two floors, it will have a much bigger bar operation than its sister restaurants The Cinnamon Club, Cinnamon Kitchen and Cinnamon Soho.
The restaurant will feature bar on the ground floor and a 30-cover private dining room on the first floor. Breakfast dishes will include traditional parathas, with small plates of Kolkata spiced cod and Indo-Chinese stir-fried chicken with chillies as snack and lunch options. Bigger plates such as chargrilled Chettinad lamb or Kerala boatman-style smoked haddock curry will also feature alongside executive chef and chief executive Vivek Singh's quirky take on afternoon tea – High Chai.
The bar will offer infused cocktails with a focus on gin and botanicals alongside non-alcoholic options such as lassis.
"We are delighted to announce the arrival of Cinnamon Bazaar – an all-day concept that mixes real Indian heritage with urban London. While identifiable as part of the Cinnamon family in terms of quality ingredients and bold flavours, Cinnamon Bazaar offers a more casual and fun format inspired by the colourful, bustling markets of India and the bazaars scattered on the ancient Silk Route, where ingredients and ideas were exchanged culturally," said Singh.