JUST EAT funds ticket give away
11th May 2016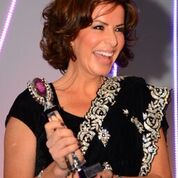 Nominations for the sixth Asian Curry Awards (ACA) are now open. This year sees the awards expanded to include Turkish and Middle Eastern restaurants and takeaways for the first time.  New award categories for vegetarian, curry pub, buffet and event caterer have also been created.
The ACA organiser, the Asian Curry Federation (ACF), is to give away 500 tickets for the awards ceremony, being held at the Grosvenor House Hotel on Park Lane in London's Mayfair on Sunday 23rd October 2015.
A hundred of the tickets are being donated to new ACF members by the leading food delivery company JUSTEAT.
"JUSTEAT is proud to be supporting the Asian Catering Federation by offering 100 new ACF members with a ticket to the Asian Curry Awards, said JUSTEAT UK MD Graham  Corfield, who added, "These awards recognise the huge successes and contribution  made by business owners in Britain across the whole of the curry industry and we are pleased to be able to offer 100 restaurateurs the opportunity to attend this glamorous event."
To claim a free ticket worth £160, restaurateurs simply need to join, or renew their membership of the ACF, which costs only £95 a year.
Membership of the ACF, which campaigns on behalf of Asian restaurant owners and provides business consultancy services, affords considerable benefits to it members.
This includes advice on immigration, visas, legal and tax issues.  The ACF also provides staff and management training, offers marketing support and runs seminars, workshops and training seminars and networking events.  Members also benefit from significant discounts on insurance, private health care, banking facilities, utility bills and card processing.
The cost of the joining fee can also be recouped by opening an account with Booker or Makro.  In addition to a enjoying a generous 2% cashback on non tobacco purchases, the £95 membership fee can be reclaimed once customers have spent £1,000 with Booker or Makro.
Curry lovers can nominate their favourite restaurants for The awards are open to Bangladeshi, Burmese, Chinese, Filipino, Indian, Indonesian, Japanese, Korean, Malaysian, Middle Eastern, Nepalese, Pakistani, Singaporean Sri Lankan, Thai, Turkish and Vietnamese restaurants and takeaways.
Last year's top accolade went to Vivek Singh's acclaimed Cinnamon Club, which was named Best South Asian Restaurant (Central London).
These are tough times for ethnic restaurateurs, facing increasing competition and severe chef shortages, with 600 curry restaurants having closed in the past 18 months, according to figures from Kingfisher Beer.
"To survive and thrive, restaurant owners must respond to customers' changing customer tastes and chefs need to innovate and produce the exciting, healthy and authentic dishes today's discerning diners demand," said Yawar Khan, Chairman of the Asian Curry Awards.
"These awards are design to recognise the best in this industry and encourage ever higher standards and the next generation of chefs and restaurateurs to join this dynamic sector," added Khan.
Leading restaurants will be visited unannounced by a panel of judges led by Pat Chapman, editor of the Cobra Good Curry Guide to ensure
a truly representative customer dining experience.
Whilst the judging criteria are heavily weighted towards the quality of the food and cooking; additional points will be awarded for ambience, customer service, community involvement and hygiene.
The full list of national award categories is:
Fine Dining Asian Restaurant of the Year
Casual Dining Restaurant of the Year
Asian Takeaway/Delivery of the Year
Newcomer of the Year (restaurants established less than 3 years)
Lifetime Achievement
Buffet Restaurant of the Year
Curry Pub of the Year
Chef of the Year
Vegetarian Restaurant of the Year
Event Caterer of the Year
International Asian Restaurant of the Year
There are also 10 regional awards for the Best South Asian restaurants in London, London suburbs, South East, South West, East, South Coast, North, Midlands, Wales and Scotland & Northern Ireland.
Nominations forms and details of the whole awards process may be downloaded from the ACA website www.asiancurryawards.com.