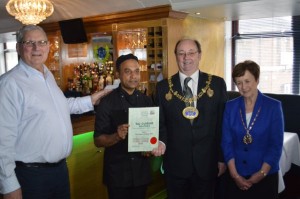 Taj Cuisine Chatham has achieved one of the Cobra Good Curry Guide's most prestigious awards, for 'Culinary Excellence'.
12th May 2016
The Award was presented to the restaurant's owner-chef Abul Monsur at a special VIP lunch with the Mayor of Chatham, Cllr Barry Kemp.
Funds raised were donated to the Mayor's selected charities: Making Miracles, Holding On Letting Go, Friends of The Wisdom Hospice and Oliver Fisher Special Care Baby Unit.
The Guide's awards are given primarily for the quality of the food. Taste, aroma, colours, textures and presentation is paramount. Ambience, customer care, service competence and friendliness also have a bearing Taj Cuisine was "Adjudged to have meet all these criteria with ease' and was deemed to be "One of the best curry venues in the region," according to the Guide's editor Pat Chapman.
"It is a fantastic achievement and thoroughly deserved," said Pat, who added, "I've been judging Indian restaurants and takeaways for over thirty years and the standard keeps on rising every year."
Asked why Taj Cuisine stands out amongst so much competition, chef Abdul Monsur said. "We never compromise. All ingredients are carefully sourced and we never use artificial colours, flavours or preservatives. I am delighted to be so highly recognised by Pat's celebrated Guide."
Abul recently returned from an invitation to cook at Taste of Britain Curry Festival in the Indian capital of New Dehli, organised by Curry Life magazine to showcase the best of British and also inspire British chefs to bring fresh ideas to their own menus.
Abul's wife Fahima Chowdhury, is also a chef who runs the Taj Cusine's takeaway venue in Lower Stoke wjhch won Best Takaway (South East) at the Asian Curry Awards in London in October.
A leading figure in the development of the British curry scene for 30 years, Taj Cuisines employs a brigade of 20 chefs, although Abul Monsur still prepares his businesses' sauces and marinades.  Menus are updated regularly and Abul travels to different parts of India most years to research fresh ideas for his restaurant.  Monsur has won numerous awards for his innovotive and unique culinary skills, including Curry Chef of the Year on eight occasions.
 www.patchapman.co.uk
Taj Cuisine,1 Walderslade Centre, Walderslade Road,Chatham
Kent ME5 9UD