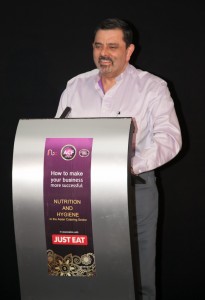 10th May 2016
Owners of around 500 Asian restaurateurs attending restaurant road shows were urged not to buy cheap and to up their game in terms of health, hygiene, nutrition and quality, if they want to survive in today's competitive environment with changing consumer tastes
The 'Nutrition and Hygiene' road shows were hosted in Bristol and Edinburgh, by the Asian Catering Federation's (ACF) in association with JUSTEAT, the UK's number 1 takeaway ordering service.
Renowned chef Cyrus Todiwala, addressing an audience in Bristol, stressed the need to produce healthier dishes, demanded by today's diners.  He focused on the importance of using quality, wholesome produce; abandoning the use of harmful food colourings and corn oil, and lowering the amounts salt and sugar used in recipes.  Todiwala's restaurants now serve unpolished rice, in preference to pilau because of its lower carbohydrate index and glycemic index rating.
The co star of BBC TV's 'Incredible Spice Men', urged the industry "Don't buy cheap!", to move away from the temptation of competing on price and to raise standards instead.  Cyrus assured guests that the British public will pay more for better quality.
In his keynote speech, JUSTEAT UK MD Graham Corfield, gave an enlightened insight into the takeaway industry, which is now worth some £9 billion to the UK economy and supports over 220,000 jobs.  Sharing details on local online consumer habits, popular cuisine and dish choices, Graham showed that the demand for healthier choices had grown by 64% in the UK with a rise in sales of Tandoori Chicken with an 80% rise in Tandoori Chicken in Bristol.
Speaking ahead of Gluten Awareness Week (9th – 15th May), nutritionist Ruth Tongue MSc said that there is a sharp trend toward low carb – high protein foods, with 3.8m people in the UK describing themselves as 'part vegetarian'. 22% of the public claim to have a food allergy or intolerance. Gluten free diets are becoming mainstream, with 15% of the population already avoiding food with gluten.  67% of customers say they now want to see calories on menus, with half choosing a restaurant displaying nutritional information, in preference to one that does not.  Ruth said the most commonly mentioned terms by trend-setting food bloggers are, 'vegan', 'paleo', 'kale' and 'avocado'.
Although traditional Indian diets are low in fat, high in fibre and rich in fruit and vegetables, too many takeaway meals in the UK are unhealthy.
Ruth, advised restaurants to promote healthier alternatives and make subtle changes to their menus.
Hygiene experts Ashvini Pancholi-Dhillon and Amanda Catling from National Sanitation Foundation (NSF) explained how to maximise 'Scores on the Doors' when environmental health officers carry out hygiene inspections.  Despite having a perfectly spotless premises, with excellent food safety practices, establishments can score as low as 1 out of 5 (the lowest is 0), if their record keeping and paperwork are not kept in order.
Although at the moment it is only compulsory to display 'Scores on the Doors' ratings in Wales, the industry widely expects the requirement to be extended to the rest of the UK around the end of the year.
Attendees were left in no doubt that with growing numbers of diners checking hygiene ratings on their smart phones on the Food Standards Agency site www.food.gov.uk, before using restaurants and takeaways, it is essential for owners to maximise their score.  Low scoring venues will lose business to higher rated competitors.
In keeping with the road show's themes, ACF sponsors Goa Premium Beer  provided their gluten free Goa beer and Booker Wholesale  demonstrated their extensive range of professional cleaning products.
The events were co sponsored by Square Mile Insurance
Road show venues:  3rd May, Holiday Inn Filton, Bristol and 9th May Sheraton Grand Hotel, Edinburgh