12th Feburary 2017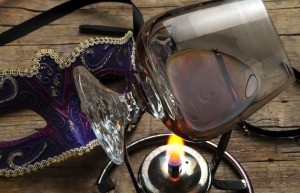 A popular curry and comedy night will return to Birmingham's Botanical Gardens on 31st March.  Following the sold-out whisky feast in September, a 'Comedy Rum-Ball' will see Itihaas's head chef Pavneet Sangwan and comedian and chef Hardeep Singh Kohli rejoin forces, this time with Ampersand's head chef Phil Bradley and rum specialist, Alessio Franzese from London's Rum & Sugar in the Museum of London Docklands.
Combining comedy and curry, the chefs will created a bespoke four-course fusion menu starting with a selection of canapés of samosas, mini fish and chips and a shot of soup. Guests will then sit down to enjoy a menu paired with rum tots.
BBC Celebrity MasterChef finalist and famed comedian, Hardeep Singh Kohli, said: "After the tremendous success of September's event, I can't wait to serve up something just as exciting. During the evening, we hope to have mouths watering and sides splitting, so if you're looking for an evening of fun and food in equal measure."
Hardeep Singh Kohli will bring his cooking abilities to Birmingham, giving guests the chance to not only taste his award-winning cuisine but also enjoy entertainment and comedy in between courses as he takes to the stage.
During the evening, guests will also enjoy a hearty dose of rum to wash down their meals. Chosen by Alessio Franzese from award-winning London-based Rum & Sugar, a selection of fine rums will be served throughout the evening. Based in the historic and atmospheric warehouse at the Museum of London Docklands, Rum & Sugar boasts close to 200 rums, and a selection will be tasted during the Comedy Rum-Ball.
Whilst Hardeep aims to raise the roof, he will also be raising awareness of a cause close to home, as this year's Comedy Rum-Ball will be supporting Let's Feed Brum. A local campaign that hopes to help Birmingham's homeless population, Let's Feed Brum is uniting restaurants, businesses, and individuals to provide the city's homeless with food, drink, essential supplies and friendship. Let's Feed Brum hopes to create a pathway off the streets by providing the support that statutory services do not, with the aim of reducing homelessness in the city. If the event sells out, like the first did, then enough money will be raised to provide almost 4,000 sleeping bags or 780 five-litre flasks that would provide over 9 million hot drinks a year.
Owner and Managing Director of Itihaas, Raj Rana, is a Director of Let's Feed Brum, and hopes that the event will help raise vital funds for the homeless support group, said: "The event is a wonderful excuse for a night out with your friends; an evening to indulge in food of the highest standards, with stellar entertainment and rum-galore!
"However, by supporting Let's Feed Brum, it is so much more; it is a chance for the city to get together and show that they care about those in less fortunate circumstances than they are. The proceeds from the evening will go on to help hundreds of people throughout the year and we hope everyone gets behind our chosen cause."