16th October 2019
Six-course tasting menu inspired by popular dishes from Turner era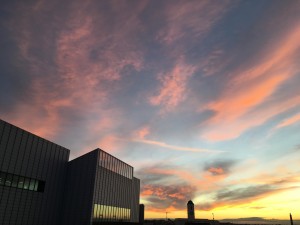 Six-course tasting menu inspired by popular dishes from Turner era
The Ambrette, an award-winning contemporary Indian restaurant located opposite the Turner Contemporary art gallery in Margate in Kent, is to host a series of special meals to celebrate the life and works of the artist J.M.W. Turner. 
The menu coincides with the Turner Contemporary in Margate hosting the Turner Prize Exhibition 2019 until 12th January 2020.
Ambrette's diners can book a 'meet-and-great' guide to lead them on a tour of the gallery, before they are treated to an exquisite six-course tasting menu, taking its inspiration from popular dishes that were available during J.M.W. Turner's lifetime (1775-1851).
One of the best-known prizes for visual arts in the world, the Turner Prize is named after the controversial, ground-breaking artist, is now seen as one of the greatest British artists. This year's contenders include the talented Lawrence Abu Hamdan, Helen Cammock, Oscar Murillo and Tai Shani.
Like J.M.W. Turner, The Ambrette's chef-owner Dev Biswal is known for an innovative and radical approach to his work.  The most recent addition to his impressive array of accolades, was being named Asian Chef of the Year this summer at the Asian Restaurant Awards.
The pre lunch and dinner tours are available at 12:30pm on Wednesday 6th and 5pm on Thursday 21st November.
After a pre starter of the day, guests will be served a Snuff box crab and quail scotch eggs.  Their invention was claimed in 1738 by London's Fortnum & Mason department store, as a traveller's snack for its hampers.  Although an alternative theory suggests that the British first encountered what were to become scotch eggs in the Raj, as a Mughlai dish called nargisi kofta.   J.M.W. Turner was a habitual user of snuff. In 1838, the French King Louis Philippe I, presented him with a gold snuff box.
Mrs Isabella Beeton's Salmon Cured or Salted 1800s Roast beef, trimmings and mini Yorkshire pudding, follows.
Although the Whig aristocracy employed French chefs, the swelling ranks of middle England preferred simple, plain fare, of roast and boiled meats, pies and puddings. Roast beef with gravy became part of the British national identity ("les rosbifs"), in contrast to the fancy sauces of France.
Next is a Chicken curry, with pilau rice and home-made mango chutney, reflecting the age of empire and sea power, which brought exotic dishes from India and the West Indies.
To finish, there is a Mango and Cognac pie with home-made vanilla ice cream. With the advancement of Victorian technology, exotic fruits were grown in hot houses and ice creams were made and stored in ice houses.
"When I first came to Margate in 2006, it was a very different place to what it is now – and people said I was crazy to bring by style of cooking to faded seaside town," said Chef Biswal, who added, "The arrival of the Turner Contemporary has helped boost the local economy and transform the area."
The six-course J.M.W. Turner tasting menu is £49.99 per person
More information at www.turnercontemporary.org/whats-on/turner-prize-2019
The six-course Turner tasting menu is £49.99 per person
More information at www.turnercontemporary.org/whats-on/turner-prize-2019
The Ambrette, 10 Fort Hill, Margate, Kent CT9 1QE