13th October 2015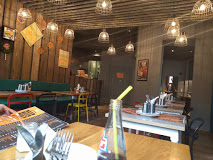 Tuk Tuk, the Edinburgh-based Indian street food restaurant Tuk Tuk has opened a site in Glasgow. The company, founded in 2012, will open its second venue in Sauchiehall Street in November.
Named after the three-wheeled motorised rickshaws, Tuk Tuk's dishes are inspired by the fresh, rustic food served at the roadside and railway stations across India to travellers, schoolchildren, rickshaw-wallahs and busy office workers.
Tuk Tuk has revamped its menu, with additions of puri yogurt bombs and a range of  Indian drinks such as mint mambo and lassis in flavours such as mango, coconut, lychee, sweet or salted. Unlicensed, Tuk Tuk has a a bring-your-own-booze policy and has takeaway and delivery services.  Artists Conzo Throb and Ciaran Glöbel have designed Indian-inspired murals to adorn the walls of the restaurant. Tuk Tuk's original site is in the Tollcross area of Edinburgh.