14th May 2106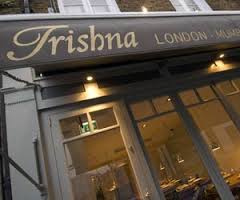 Upmarket Indian restaurant Trishna has just announced it is to run a series of "Not Your Average Curry Nights" priced at £120 per head that will introduce modern innovative dishes from different regions of the subcontinent to diners, writes Glynn Davis.
This struck me as interesting. Not only from the point of view of Indian food now moving into the land of the £100-plus per head meal but it also reminded me of the days when I frequently enjoyed what could be described as an average curry night.
That Indian food can now command these sorts of premium prices, and operators like JKS Restaurants (that also runs Gymkhana), are now showing the British public the real richness of Indian food, is to be welcomed. My concern lies with the reference to the average curry night because I fear they are becoming a much rarer thing than they were in my youth. After a few beers the next stop was always for a curry to finish things off. I did this for many years because I was fortunate my hometown of Doncaster had one of the country's first Indian restaurants, called Indus, which I'd been visiting initially as a birthday treat each year from the age of eight. It sadly closed a couple of years ago.
Even sadder is the fact its demise is not particularly unusual. Recent statistics show 600 Indian restaurants have closed over the past 18 months, representing 11% of the UK's curry houses, and there are fears as many as a third of the 12,000 such restaurants are heading for closure. There was a time when a village or small town would absolutely have had at least one pub and an Indian restaurant but this is now far from being a certainty. Both these established parts of the British leisure scene face their issues as the market around them has been changing dramatically.
Not only do Indian restaurants face a critical shortage of chefs, from next month a chef employed from outside the EU will legally have to be paid a minimum salary of £35,000. This will not exactly help margins in the trade that have halved from 20% to 10% over the past 20 years as operating costs have risen but menu prices have largely stayed the same. This has been necessary because curry houses have faced a torrent of competition from the likes of pubs hosting curry nights, the supermarkets running constant curry meal deals, and pretty much any bog standard cafe seems to have a curry as an option.
The Indian restaurant industry has also suffered from a lack of economies of scale, which have benefited other cuisines where chains have being built up and central kitchens employed. The bigger curry house chains like Aagrah have only been able to grow into double figures (current roster is 14 restaurants in Yorkshire) because they have enjoyed the advantage of being run by a big family. Renowned chef Cyrus Todiwala, who runs Cafe Spice Namaste, told me some time back no Indian restaurateur would ever take the risk of having a non-family member running one of their outlets.
The curry house has also faced an issue with younger consumers developing an appetite for other cuisines. Whereas my de facto meal out was the curry, for today's younger audience it is just as likely to be a premium burger, Nando's, Vietnamese or Mexican that sates their desires after a night out. There are still plenty of the older clientele who religiously stick to their Indian meals out but the future health of the curry house will inevitably be reliant on attracting more younger customers.
Thankfully it's not like the industry does not adapt. I've seen various changes over the years. It must have been a decade ago when I walked the length of Brick Lane in east London to try to find an old school Indian. I wanted sitar music, flock wallpaper, carpeted floors, and maybe a Taj Mahal-shaped bit of coving for added ambience. I failed in my mission because they had en masse moved on and switched to playing British music, stripped off the wallpaper and painted the walls white, ripped up the carpets to instead lay down wooden flooring, and the coving was no more.
What I haven't mentioned is the food. In contrast to the decor, it was exactly the same. And to a large degree it still remains exactly the same today in most curry houses, which all have the familiar dishes of old. We know what the roll call comprises: rogan josh, tikka masala, jalfrezi, and bhuna to name but a few.
But as high profile restaurants like Trishna increasingly put the focus on regional Indian cuisine as well as introducing healthier dishes – which all goes to provide something new and fresh as well as differentiation in the market – it is hoped this thinking will spread to the menus of other more price-conscious restaurants around the country. It's more than just a cuisine and jobs at stake. It is part of modern British culture and one many people in this country will be very sad to see having such a tough time. Let's all partake in more average curry nights.
Glynn Davis a leading commentator on retail trends
This article first appeared on Propel Info's Morning Briefing, a daily free-to-air newsletter for pubs, restaurants and food service operators. For a free subscription visit www.propelinfonews.com