14th May 2016
New Openings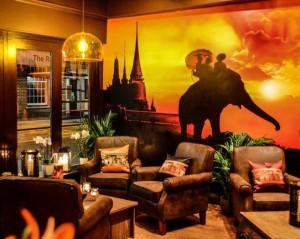 The Koh Group has opened on a former night club site on Endless Street in Salisbury, creating an "opulent and seductive dining space."
Koh Thai Tapas, the group's 9th venture, is the first of 3 planned openings for the group in 2016.
Although eat in customers take priority, the restaurant has been designed with take away and delivery in mind and direct access from the kitchen to the street, without a need pass through the dining area.
"Salisbury has been a key acquisition for us and we are delighted to have such a great reception to the site," said Koh Group, Andrew Lennox, adding, "Bookings are rolling in we are expecting Salisbury to become a firm favourite in the local community."
Sosharu
The Social Company has launched its seventh London restaurant with the opening of Sosharu – meaning "to socialise" – a Japanese izakaya-style restaurant situated within the TurnmillBuilding on Turnmill Street, Clerkenwell.
Sosharu is a joint venture between Jason Atherton and Executive Head Chef Alex Craciun. In preparation for the launch, Craciun relocated to Japan, spending the year studying at the KyotoCulinarySchool. He also worked at restaurant Kikunoi under Chef Yoshihiro Murata in Kyoto then RyuGin under Seiji Yamamoto in Tokyo.
Serving casual, refined Japanese cuisine using British seasonal ingredients, Craciun's menu comprises small dishes, with sections dedicated to different specialities including temaki, hibachi grill, yaki grill, tempura, sashimi and dishes inspired by Japanese classics.
7 Tales
Located under Sosharu, 7 Tales cocktail bar, headed by Geoff Robinson, has drinks menu is inspired by Japanese culture and philosophies, such as Nikkei Martinez, a blend of aged sake, mosto verde pisco, vermouth, black salt and flowers or Bonita Appleplum, a zesty mix of sugarcane umeshu, sugarcane, amontillado, rum, lemon and orange bitters.
Designed by Shanghai based studio Neri & Hu, also responsible for Atherton's Pollen Street Social, the interiors of the 75 cover restaurant "play with notions of Japanese domesticity."
Kisetu
Set to open shortly after Sosharu, Kisetsu – meaning season – will be an entirely separate dining space with its own kitchen, accessible via the main entrance to Sosharu. A tasting menu will be served in fine dining style adopting the 'omakase' tradition. Loosely translated as 'trust the chef,' diners are offered a bespoke daily changing menu.
James Dahl
Mofur Miah has been appointed head chef at the new James Dahl Indian restaurant in Birmingham's Chinatown. Mofur, who has cooked for Tom Cruise, Janet Jackson and The Spice Girls previously owned the Amina restaurant in Sutton Coldfield. The new restaurant in Hurst Street is owned by Bangladesh-born Husban Ahmed and is named after one of his ancestors. Dishes include Jhinga Bateta (marinated king prawns grilled in a clay oven and cooked with roast potatoes in special sauce), and Rosely chicken – slow-cooked chicken marinated in light herbs and spices and cooked in a sweet sauce.
Chopstix
Chopstix noodle eaterie is to open a new site in Aberdeen. The company is launching the venue in Union Street next to the Trinity Shopping Centre on the site of the former Pizza Hut, which closed in 2011. Chopstix, uses authentic Asian recipes from China, Thailand, and Korea.
"This will be one of our larger sites in the UK. We can't wait to come to Aberdeen. We have always been very welcomed north of the border and are delighted at how our Scottish cousins have received us. Everything will be cooked fresh on site and in front of the customer," said Chief Operating Officer Max Hilton Jenvey.
Hanoi Coffee Company
New Vietnamese cafe Hanoi Coffee Company has opened in Bristol. The venue in St Stephen's Street has been launched by the team behind Japanese restaurant Sticks & Broth and Asian venue Baowow, both in neighbouring Baldwin Street, as well as soon-to-open Thai bistro bar Bangkok Joe's in Redcliffe. The cafe brings a taste of Vietnamese street food stalls, including offerings to eat in or take away such as congee (rye porridge with ginger, spring onions and a choice of toppings) and bun bo hue (spicy lemongrass noodle soup with a choice of brisket, pork belly, spiced chicken or mushrooms). There are five types of banh mi, including vegetarian Shroom Mi (roasted mushrooms, chilli garlic mayo, pickled dikkon and carrots, red onions, roasted green onions, coriander and hoisin sauce) and Cluck Mi (turmeric chicken with spicy sirarcha sauce). Drinks on offer include brown rice tea.
Woody's Grill
Restaurant operator Woody's Grill, which operates seven sites in the London, is planning its first move into the regions with the conversion of the former TNT nightclub in Gloucester's Eastgate Street. Woody's Grill serves traditional Turkish food including kebabs and mixed grills.