7th December 2016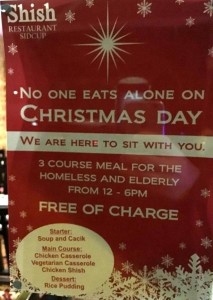 Shish Turkish restaurant in Sidcup has posted adverts inviting homeless and elderly people to eat free on Christmas Day.
The move has been widely applauded as a "selfless gesture" on social media.
Irfan Can Genc, co-manager, said the idea came to him after an elderly neighbour told the staff she would be alone at Christmas.
"She came in to the restaurant to thank us for helping her to close her window the day before and she started telling my colleague how she was very lonely and would be all alone on Christmas day," reported Genc, who added, "We started thinking if she is lonely there must be others who also don't have anywhere to go on Christmas Day."
 

Mr Genc said his Muslim faith has taught him to help others.
 

He said: "It's our background. On our holy days we see our families and then we help others out in the second half of the day. It doesn't matter what religion they're from, what background or culture, we're all humans at the end of the day.
 

www.

shishsidcup.co.uk