14th December 2016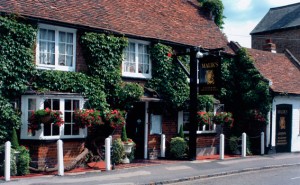 Maliks Tandoori in Cookham, Berkshire has been the target of an arson attack.  Fire at the restaurant who customers include the Prime Minister Teresa May and actress Barbara Windsor, broke out on 6th December, after a flammable liquid was poured through the letterbox.
Seven members of staff living above the restaurant had to jump from windows in the two-storey building before firefighters arrived.
A man in his 20s received serious leg injuries and another was treated at the scene for smoke inhalation.
Maliks Tandoori restaurant in Cookham in Berkshire has been damaged in a suspected arson attack.
Thames Valley Police have launched an appeal for information as part of an investigation, having said that the fire was a "deliberate attack with intent to endanger life".
Restaurant owner Malik Ahmed said: "We don't know if this attack was a personal vendetta against us or someone with a grievance against the business.
"Whoever did this would have known there were people in the building because all the lights were on upstairs."
The restaurant is expected to remain closed for several months.
Thames Valley Police said that the fire was a deliberate attack with the intent to endanger life.  An appeal has been made for witnesses.