14th November 2018
Plant-based concept from Michelin-trained chef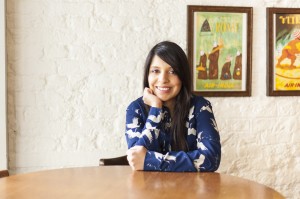 Bindu Patel, who spent spells in the kitchens of Michelin-starred and Gymkhana and Trishna restaurants and staged at Le Gavroche in London, is to open her own restaurant, Sanctua, in Leicester in January.
The 40-seater venue, is located on the site of the former Geeta's Krupa on London Road in the Oadby district of Leicester, Sanctua will offer a completely plant-based eclectic menu, employing mostly fresh, local and seasonal ingredients.  Changing regularly, the use of 'wonky' fruit and vegetables, organic where possible, helps reduced foo waste. Located in one of Britain's most multiculturally rich environments, specialised ingredients will be sourced from reputed ethical suppliers.
Signature dishes include a starter of Smoked seaweed seasoned crispy chilli cassava with miso and lime Mayonnaise; a main of Forager's wild mushroom, puy lentils and spinach pie with Guinness and creamy girolle mushrooms, on mashed potato, lemon and wild garlic tossed vaolo nero with savoury herb and hazelnut crumble and mushroom sauce, topped with shaved autumn black truffles; and a desert of Coconut, ginger, chilli and lime sorbet with toasted coconut, coconut palm sugar, salted caramel and shiso sugar. There will a smoothie bowl of the day, with £1 for each served will be donated to a charity of the month.
There will also be a Platter of the Week, featuring a selection of Eastern, Indian, Mexican or Italian dishes.
Although the cooking draws its inspiration from the best of several cuisines from across the globe, it embraces Ayurvedic principles from the earliest Brahman traditions of Hinduism.  Ayurvedic cooking, where food is viewed as medicine. It Is not just about balancing foods' tastes and textures – it is about knowing which food combinations can cause indigestion and bloating – because different foods digest at differing rates.  Overcooking and burning foodare believed not only to kill its 'spirit', but also the taste.
"I want people to eat my food because they really enjoy it.  We're not here to preach about lifestyles and animal welfare.  Whether customers, are fully vegan, 'demi veg', flexitarian, pescatarian or cutting back on meat consumption for sentimental, environmental, or health reasons, isn't the issue – I want people to eat here because the really love the cooking," said Bindu, who samples new dishes on her meat-loving friends before adding them to the menu.
Once viewed as offering tasteless, bland 'rabbit food' for cranks and weirdos, veganism is now seen as mainstream with supermarkets devoting whole aisles to non-animal produce and many restaurants reporting that over a quarter of orders are for plant-based dishes. Meat-free Mondays are now common place and 'Veganuary', as part of a New Year detox, grows in popularity each year.
Dinners at Sanctua can choose from a variety of vegan wines and beer as well as non-alcoholic beverages such as Lemon and ginger turmeric Sherbet shots; Rose, cardamom and Pistachio Golden Milk.
The refurbished restaurant, as its name implies, is intended to offer a calm, relaxing and reenergising environment, stocked with lush plants to oxygenate and purifying the air.  The décor concept is based on bringing the outside in, to looked, sound and smell like a garden. A sound track of recorded bird song completes the tranquillity.