6th May 2019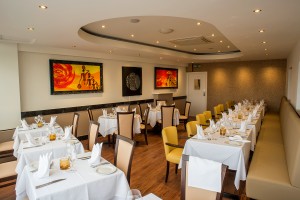 Saffron Summer, the award-winning Indian fine dining restaurant in Chessington in Surrey, will be serving a special three course vegetarian menu, with optional vegan drinks pairings, for around £24.95 a head. For each one served Saffron Summer will donate £1 to the Curry for Change charity, which works to alleviate hunger in rural Africa and India.
With the backing of heavyweight celebrity chefs including, twice Michelin-star winning Chef Atul Kochhar, TV Chef and Restauranteur, Cyrus Todiwala OBE, TV Chef and Cookery Writer Anjum Anand, and Founding Chef of The Cinnamon Club Vivek Singh, Curry for Change is raises thousands of pounds to help rural families in Africa and Asia.
With a reported one in eight people around the world going to bed hungry each night, UK charity Find Your Feet created the Curry for Change campaign as an easy and fun way for the public to help make a real difference; by either 'dining in' and hosting their own curry night at home or 'dining out' and enjoying an Indian restaurant meal.
"Curry for Change is a great cause and with more customers asking to feature more vegan and vegetarian dishes, National Vegetarian Week is an ideal opportunity to promote both," said Saffron Summer Chef Roy, who also offers a special Meat Free Monday menu.
Curry for Change is a campaign created by UK charity Find Your Feet who work with rural communities suffering from poverty and hunger across Africa and Asia.
The legendary Pat Chapman, Editor of the Cobra Good Curry Guide, said when visiting Saffron Summer, "You won't find better Indian food anywhere," which is confirmed by its being ranked No. 1 Indian Restaurant in Surrey on the TripAdvisor reviews website*.