7th May 2019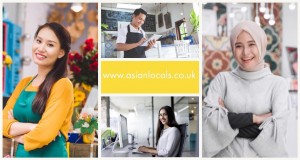 The Asian Locals marketing portal for small businesses, has added features, including: social media promotion, guest blogging and targeted promotions aims to boost brand awareness and credibility of small Asian enterprises in the UK.  It is designed to help keep small Asian businesses afloat through cost-effective marketing approaches, "without wasting big budget on generic promotions."
The impact-focused online listing for small businesses has a founding principle to build awareness by showcasing brands, products, and services.  Asian businesses can benefit from the marketing innovations and direct links to the Asian community in the UK.
84 % of customers trust online reviews, according to data by Bright Local.  Asian Locals now has a review feature that enables a business to invite feedback from their customers which is published along with their business information. The reviews are shown to all customers flocking the directory to see. It helps to build brand loyalty for repeat business.  Because of the ever-growing significance of reviews, this small business advertising platform has expanded the feature.
"The cost-effective advertising concepts illustrate our knowledge of the market, significant relationships and the needs of small Asian business owners for flexibility and control when marketing their businesses" said company spokeswoman Sarah Mortlock, adding, "For the myriad of challenges that small businesses face in the UK, Asian business owners have been feeling the most pinch.
"It is challenging to accurately target an audience that is scattered, on a small budget, helping businesses to maximize the value of online marketing through laser targeting.
"It's no longer about the masses, but about small groups of Asian consumers that are willing to buy."
The new laser targeting promises benefits, including speedy brand visibility and a shortening of the sales cycle.  The Asian Business Directory handles nurturing of leads with intuitive offers and subtle suggestions.
Asian Locals promises to help 60% of small businesses, which it claims do not have an online presence.  The website allows them to publish their brand message, contact details and latest offers,  on its online business directory.
Businesses with a website can link from Asian Locals and include social media platforms to help channeling leads and boost search engine optimisation.
The site features Asian jewellery; dresses and bridal wear; wedding services; beauty products; home décor products; photography; catering, food and restaurants
"Asian Locals grew from many complementary concepts. The first and perhaps the most prominent reason is that the site connects the community of Asian locals. The concept was to bring together buyers and sellers that respect and understand the Asian way of life in the UK. From a marketing perspective, we help businesses grow through relationships. We start and nurture customer, business and investor relationships," said Mortlock.  "The Asian community in London is closely knit. For customers that want a taste of Indian food, need Asian wedding planners or want to buy Pakistani trinkets, radio or TV will be the last place they go to look for advertisements. The internet brings together all these customers and business owners. The internet is a big space and so Asian Locals exists to ease the process and match up businesses to the right customers."
Customers that need to send out Asian wedding invitations, redo their Asian clothes or feed their families now have easy access to the providers of these products and services on Asian Locals. The online business directory lists the business for a year with no hidden costs.
Apart from pairing businesses to a targeted customer base, Asian Locals also aims to nurtures B2B relationships. Asian business can find suppliers of raw materials or like-minded business owners to partner with. Investors can also use the Asian business directory to find prospective businesses to invest in.
Asian Locals is a business directory for small Asian business owners in the UK. The list thrives on a professionally designed website that serves as a showcase window for products, services, and brands. The directory is built on a mandate to help Asian businesses increase their brand awareness, build a positive reputation and improve sales leads.