17th September 2016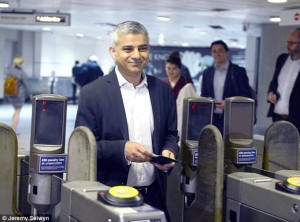 The Asian Catering Federation (ACF) which represents 20,000 ethnic restaurants in the UK, has urged its London members to embrace the opportunity all night tubes.
London Mayor Sadiq Khan introduced the through-the-night Underground service on 16th August.
With reports of over 50,000 Londoners a night taking advantage of the Underground's move to 24-hour operation of its Victoria and Central lines, the new potential for restaurateurs close to a tube station is enormous.
The ACF Chairman Yawar Khan, who has urged his members located near a tube station, to rethink their business model ahead of the extension of through the night trains to include the Northern, Jubilee and Piccadilly lines.
"Many restaurants open every lunchtime, but rarely see a customer because of a lack of demand or the failure to offer lighter, less spicy dishes preferred at midday," said Yawar Khan who added, "They would do better by opening later at night or offering breakfast."
With commuters prepared to pay over £3 for a pre work coffee at chains like Costa, Starbucks and Caffe Nero, Khan believes there is a unique opportunity to provide authentic, healthy breakfast options including fish, yoghurt and fruit.
Yawar predicts there could be a resurgence of the kedgeree breakfast, made with haddock, eggs and rice, which was made popular by returning British colonialists who developed a taste for Indian food in Victorian times.
The AFC is not suggesting all restaurants open all night, every night, but only that they should assess the potential – and that those who do change their opening hours –  produce the right dishes, with emphasis on lighter, nutritious options.
"There's no point is hiring more staff and just staying open – restaurant owners need to plan any change in opening hours and promote themselves effectively. The market for post pub closing time curry has long gone, as younger customers consume less alcohol and eat healthier foods, than their parents' generation," reported Yawar Khan.