8th November 2017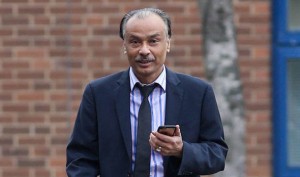 A reckless restaurant owner who killed a customer with a nut allergy – by secretly putting peanuts in a takeaway meal – has lost his appeal against his conviction for gross negligence manslaughter and a six-year jail sentence.
Lord Justice Hickinbottom sitting with Mr Justice Openshaw detailed how 38-year-old Paul Wilson suffered a severe anaphylactic shock in January 2014 after eating the takeaway from the Indian Garden restaurant in Easingwold, North Yorkshire.
Wilson died three weeks after another customer with a peanut allergy bought a meal from one of Mr Zaman's six restaurants and had a severe reaction requiring hospital treatment.
The court heard how owner 52-year-old father of four Mohammed Zaman of Aylesham Court, Huntington, York was found guilty in a landmark trial in May last year at Teesside Crown Court of the manslaughter and six charges of contravening various food safety requirements.
He denied responsibility, but the court had heard how he had cut corners by switching almond powder and using cheaper ingredients containing peanuts.
When Wilson, a bar manager from Helperby, North Yorkshire, asked for a meal with no nuts he was served a tikka masala and told it was nut-free.
Rejecting the appeal Lord Justice Hickinbottom said: "In our view, the Appellant's negligence in this case was not just gross; his behaviour, driven by money, was appalling. Given the very serious aggravating factors, even though the appellant was a man of good character, we are wholly unpersuaded that a sentence of six years after a trial was manifestly excessive or, indeed, excessive at all. The appeal in respect of both conviction and sentence is dismissed."
The jury at his trial was told Zaman had a "reckless and cavalier attitude to risk" and "put profit before safety" at all his outlets. He was almost £300,000 in debt and cut costs by using the cheaper nut powder and by employing untrained, illegal workers.
In sentencing him, Judge Simon Bourne-Arton, the Recorder of Middlesbrough, said Zaman had remained "in complete and utter denial" and ignored warnings from officials after 17-year-old Ruby Scott suffered a reaction to a curry, three weeks before Mr Wilson's death.
Paul Wilson was said to be in the prime of his life. His parents Margaret and Keith from Sheffield said they felt "numb, shock and disbelief" over their son's death. His dad Keith said: "I feel robbed that I won't share the rest of my life with Paul."
The appeal judges rejected complaints that the trial judge misdirected the jury. They said the case against Zaman was not just powerful it was "overwhelming" and "we are in no doubt that the conviction was and is safe."
As for sentence it was submitted and rejected that the six years imposed was manifestly excessive, particularly having regard to Zaman's previous good character.