7th November 2017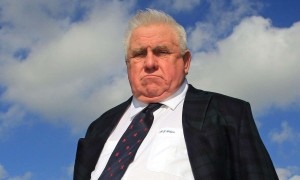 The UK equality watchdog is seeking an injunction against buy-to-let mogul Fergus Wilson after he told his letting agent to ban "coloured" tenants because they left curry smells in his properties.
Wilson, who at one time owned almost 1,000 homes across Ashford and Maidstone in Kent, emailed a local letting agency, Evolution, saying: "No coloured people because of the curry smell at the end of the tenancy."
At the time, Rebecca Hilsenrath, the chief executive of the Equality and Human Rights Commission (EHRC), called the remarks "truly disgusting … as well as being unlawful instructions from a landlord to a letting agent".
In a case in front of Maidstone county court, the EHRC will ask the court "if it agrees with us that Mr Wilson's lettings policy contains unlawful criteria and, if so, to issue an injunction".
An unrepentant Wilson said he would vigorously fight the legal action, insisting he was not a racist.
Speaking before the hearing, Wilson said: "All the local people here agree with me. It's perfectly legal not to buy a house because you think it smells of curry … if you are in Ashford and Maidstone, 99% of the population are not from India or Pakistan.
The problem is that if you have a £250,000 mid-terrace house, the valuation drops by £50,000 if it smells of curry."
The property tycoon, who previously announced the £250m sale of his empire but said the process was taking a long time, will be representing himself in court.
He said his defence would be based partly on his claim that no one had been affected by his letting criteria, as he had not had a request to rent from an Indian or Pakistani person for many years.
"I take in a disproportionately high number of black tenants. I'm not against coloured people. I'm not against Pakistani people. I'm friendly with an awful lot of Pakistani landlords. At property auctions everyone asks me to be on their table. By chance, I've had some Gurkhas, and I'm very proud they have been tenants of mine. They do not leave any resididual smells of curry cooking afterwards. This has got nothing to do with the colour of someone's skin," he said.
When the EHRC began its legal action, it said Wilson's letting criterion of "no coloured people" was direct discrimination on the grounds of race, breaching section 13 of the Equality Act 2010.
If the court grants an injunction, and Wilson complied, it said "nothing more will happen. However, if he breaches the injunction and continues to apply the discriminatory criterion, this could be contempt of court which could result in a fine."