14th August 2018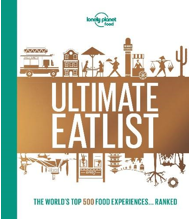 Lonely Planet has revealed the world's best food experiences in its new book, Ultimate Eatlist.
In the follow-up to Lonely Planet's Ultimate Travelist, Ultimate Eatlist travelled the world to research the "definitive foodie bucket-list" of the world's top 500 food experiences. Each entry details an experience, the culture behind it, and what makes it so special. It also includes favourite food experiences as nominated by 20 of the world's top chefs and food writers.
The guide includes rankings of top Asian dining experiences: Curry laksa in Kuala Lumpur, Malaysia; Sushi in Tokyo, Japan; Som tum in Bangkok, Thailand; Bibimbap in Seoul, South Korea; and Dim sum in Hong Kong.
Lonely Planet asked its food-obsessed writers, bloggers and staffers to name their favourite, most authentic gastronomic encounters to produce a long list for the world's must-have food experiences?  Its team of expert food editors, aided by a panel of chef and TV presenter Adam Liaw and food blogger Leyla Kazim – that evaluated the entries according to the taste of the dish, its cultural importance, and the special atmosphere of the location.
For the UK, the 304 page hardback first edition which costs £25, recommends:  London's Worsley (#141) for a  khichari (kedgree) breakfast; Shish Mahal (#150) in Glasgow for Chicken Tikka Massala; and Sharbarin (#383) in Birmingham for a Balti.
www.lonelyplanet.com/ultimate-eats