11th March 2018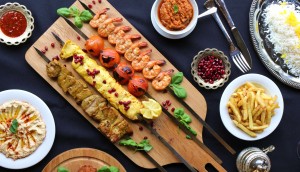 Kookoo Seafood & Grill in Surbiton which scooped the accolade for Best Middle Eastern Restaurant at the inaugural Asian Restaurant Awards for its exquisite Persian cuisine, is to host a celebratory dinner.  Kookoo made the Awards' shortlist thanks to the large number of votes from enthusiastic customers from Surbiton, Tolworth, Kingston and further afield. As a reward for their loyalty, Kamran is hosting a gourmet Persian feast on Monday 2nd April, to celebrate. The special dinner will cost only £15 and includes a glass of prosecco, a bottle of premium K1 sugar-free beer or soft drink. Early booking is advised for what is expected to be a sell-out event.
Other winners among the country's top ethnic restaurants included; the Michelin-starred Hakkasan (Best Chinese), Rasa Sayan, London (Best Malaysian) and Palm Pan Asia (Best Pan Asian Restaurant), whilst Asma Khan of Darjeeling Express collected an award for Asian Entrepreneur of the Year.  
An independent, family-run restaurant, led by restaurateur Kamran Abtahi, Kookoo has established a reputation for its healthy dishes, produced from scratch, using fresh quality ingredients and skilled marinating.
The menu is based on traditional Nejad family recipes, handed down through the generations. It features appetising salads, grills and traditional Middle Eastern stews, that are gluten-free.
The emphasis is on sharing plates with premium quality chicken, fresh fish and prime lamb cuts.
"It's a great honour to win such a prestigious national accolade which vindicates our decision to develop a health-conscious dining concept and is just reward our dedicated team who work hard to creating authentic flavours," said Abtahi.
Karman Abtahi has previously spent a total of 9 years working as head chef at renowned Persian restaurants, The Piano in Chiswick and Doost, Persian Grill in Kennington.
The Asian Restaurant Awards judges were impressed, with their notes revealing: "Classic Persian dishes given a modern gourmet twist.  Kookoo builds on a rich culinary tradition that absorbed influences from its neighbours, then exported them to northern Indian as the Mughal Empire expanded eastwards.  Subtle touches, using light marinades and delicate spices, don't overpower the food, allowing the natural flavours to shine through.  Chicken, lamb and fish dishes were all moist and a succulent. Healthy eating at its best."
The restaurant's 'BYOB' policy, with zero corkage on Wednesdays and the offer of 50% off drinks on Thursdays, are particularly popular.
The restaurant takes its name from 'kookoo sabzi' (sometimes spelt kuku), a popular vegetable dish served during the Persian New Year (Nowruz) celebration, a two-week spring festival which broadly equates to Easter in western cultures.  Kookoo sabzi is a healthy, vegetarian dish made from several herbs (sabzi), typically chives (tareh), cilantro (geshneez) and dill (shevid), then baked.