5th March 2018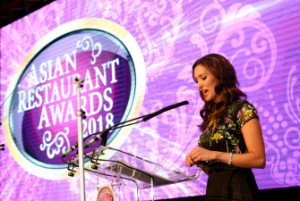 The winners of the inaugural Asian Restaurant Awards were announced at a glittering awards ceremony, held at the Manchester Hilton, on Monday 5th March. The evening, attended by over 500 leading restaurateurs, chefs, food journalists and VIP guests, was hosted by BBC TV news anchor, Barbita Sharma.
The winners were:  Hakkasan, London (Best Chinese Restaurant); Rasa Sayan, London (Best Malaysian),  Asha's, Manchester (Fine Dining Restaurant of the Year);  Kookoo, Surbiton, Surrey (Best Middle Eastern); Istanbul, Manchester (Best Turkish); Palm Pan Asia, Winchester (Best Pan Asian Restaurant); Aagrah Group, North of England (Best Chain); Ziya Restaurant,            Manchester (Best Bangladeshi); The Naz, Manchester (Best Indian); Royal Nawaab,            Manchester (Best Buffet Restaurant); Urban Kohinoor, Bristol (Best Newcomer); Sigiriya, Altrincham (Gourmet Restaurant of the Year);  Mushtaqs, Hamilton (Just Eat Awards for the Best Takeaway/Delivery); Sapna, Southall, London (Best Event Caterers – South); Royal Nawaab (Best Event Caterers – North); Asian Entrepreneur of the Year awards went to:             Asma Khan (Female), of Darjeeling Express, London and Mohammed Abdul Ahad (Male) of Millennium Balti, Leamington Spa (Male). Abdul Ahad of Nazma Group of restaurants (Scotland) collected a Lifetime Achievement Award.
Regional awards went to     Urban      Tandoor, Bristol (South West); Usha, Burnley (Lancashire); Tipu Sultan, Birmingham (West Midlands); Akbar's, Bradford (Yorkshire); Millennium Balti, Leamington Spa (Warwickshire); Light of Bengal, Aberdeen (Scotland, North); Charcoals, Glasgow (Scotland, South), Moksh, Cardiff (South Wales) and Sopna Tandoori (North Wales); Gandhi, Best Asian Restaurant (South of England).
The Asian Restaurant Awards were organised by the Asian Catering Federation (ACF) which represents the nation's 30,000 Asian and Oriental restaurants.
In his keynote speech, ACF Chairman Yawar Khan declared the Asian Restaurants Awards a great success and promised to return next year with "an even bigger and better event."
In his programme notes, Asian Restaurant Awards judge, George Shaw, commented: "Over 25 years ago culinary pioneer Madhur Jaffrey told me that too many Asian restaurant owners were in a race to the bottom, under cutting each other's prices, with enormous menus of poorly cooked dishes. Tonight, we celebrate the achievements of those in a race to the top."
The awards are sponsored by Just Eat and Booker Wholesale and supported by ACF Utilities, the Asian Hospitality Federation of Europe, Aroma Ice Cream and Mohammed Shah & Co Accountancy.