7th June 2016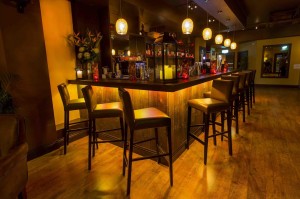 11th opening for fast growing concept
Koh Thai Tapas has revealed that it is to open in the Hampshire market town of Romsey.  Romsey will become the group's third location in Hampshire – its 11th in total, when it opens in mid July after a four week refurbishment.  The announcement comes within weeks of the acquisition of a site in Winchester, which opens next week.  A 12th site is expected open later in the year.
With around 80 covers the new Romsey restaurant will feature the iconic features of a Koh Thai Tapas venue.  The popular concept has become known for its vibrant hand painted murals, ornate fretwork and the prominent wooden clad bars.  The latest opening will create 15 new jobs and the company has begun recruiting for front of house and bar positions.
Koh Thai Tapas will replace, 'Berties of Romsey', a much loved venue at the heart of the town quintessential English market town, which has closed after 21 years.
"We have long been interested in Romsey – it's a fantastic addition to the Koh Thai Tapas brand – the town's demographics and geographic location make it an ideal setting for us," said Koh Thai Tapas CEO Andrew Lennox," who added, "We look forward to seeing some familiar faces who have been fans of our Ringwood and Salisbury branches and to becoming a part of the community in Romsey."
Departing owners David and Christine Birmingham commented: "We would like to wish Andy and his team at Koh Thai best wishes for the future and hope that all goes well."
Kevin Marsh from Savills acted on the deal.
Koh's first restaurant opened in Boscombe in December 2009. It was an instant hit and won "Restaurant of the Year" at the Bournemouth Tourism Awards 2010 in its first year. Three further restaurants followed: Bournemouth (December 2011), Southsea (December 2012) and, first two restaurants away from the SouthCoast, Bath (May 2013) and Bristol (Feb 2014). The first Koh Noi site in Sandbanks opened (Apr 2014) establishing the Group's sister concept of the wet sales led Tapas Bars. Following the success of the first Koh Noi opening, a second followed in Christchurch in September 2014, then another KTT restaurant was placed in Ringwood, Salisbury and the latest acquisitions in Winchester (set to be the third Koh Noi) and Romsey takes the Group to 11 sites.
Koh Thai Tapas, 80 The Hundred, Romsey, Hampshire SO51 8BX 
E: info@koh-thai.co.uk W: www.koh-thai.co.uk