13th September 2016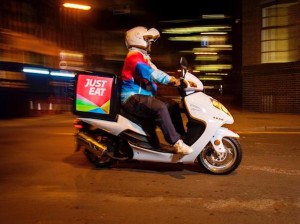 Web-based delivery company  Just Eat is to rebrand in the UK before rolling out to 13 other markets.
Several new initiatives will see  Just Eat becoming one of the launch apps for Apple Watch Series 2 and WatchOS 3.  Just Eat's new Facebook Messenger Chatbot will by engaging with customers to inspire their food choices by messaging the bot to offer them a selection of different restaurants whose food they have yet to try.   The Just Eat app and website will be refreshed and new features will be added over coming months to enable better discovery of favourite foods, new restaurants as help customers to discover new cuisines. A new-look resources for its partner centre and driverapp, part of a new Restaurant Partner Value Proposition to be launched in October.
Ben Carter, UK Marketing Director at Just Eat said: "As the UK's largest online food ordering service with over 100 different cuisines on our platform, we can cater for all tastes, occasions, moods and budgets up and down the country and our campaign encourages people to 'Find your Flavour' – from picnics in the park, pizza at the beach or sushi at work.
"We're also using this opportunity to make a visible commitment to help our restaurant partners own the branded delivery experience in the 'last mile'. We're making a significant investment in our restaurant branding programme including new jackets for delivery drivers and the first ever scooters in Europe to carry branded light boxes," he said.
The new Just Eat brand  will be supported by a new UK marketing and advertising campaign launching Friday 16th September and will run across all major consumer marketing channels including TV, outdoor, digital and social media.
The new brand design sees red remain as a lead brand colour, but with an added 'colour ray', representing the diversity of foods available on the Just Eat platform.
 Based in London, Just Eat to offerds a quick and efficient digital ordering service for over 15.5 million active users and over 62,800 takeaway restaurants in 13 countries.