26th February 2017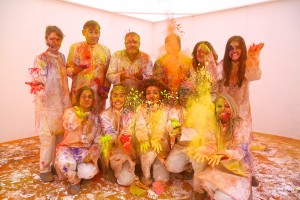 With the approach of the Holi season,  opportunities to pelt each other with coloured paints in the name of Hinduism and the changing seasons are being announced.
Cinnamon Kitchen near Liverpool Street is to erect its Holi party pod from Tuesday 7th until Saturday 18 March (Holi itself is 13 March), where you'll be given white overalls to wear (and plenty of colourful powder bombs). During this time the restaurant is serving a limited-edition, five-course menu on weekdays. The set courses include grilled Kentish lamb escalopes with smoked paprika raita and king prawns in a coconut and cardamom curry, for £38. The price includes a go in the party pod, or you could pay £8 just for a 30-minute pelting session (£15 gets you a drink and snacks from neighbouring Anise too).
Elsewhere, Dishoom is planning a family-friendly paint party for Sunday 12th March from 12 noon-3pm at York Hall in Bethnal Green. There will also be Indian street food and gelato, as well as a late party for adults.