28th February 2017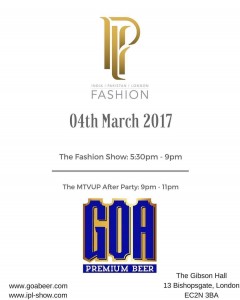 Goa Premium Craft Beer importer Viiking Ventures UK, has announced an incentive for restaurant waiters to win one of 50 of pairs of tickets to this year's IIC Champions Trophy cricket matches.   The company is also sponsoring this year's India Pakistan London Fashion Show 2017 (ILP) in conjuntion with MTV.
The eight-nation one-day international tournament will be contested by England, Bangladesh, India, Pakistan, Sri Lanka, Australia, New Zealand and South Africa, running from 1st to 18th June 2017.  Matches will be played at Edgbaston in Birmingham, the Wales Cardiff Stadium and The Oval in London.
Staff at bars and restaurants selling Goa Premium Craft Beer need to collect 180 bottle caps – the equivalent of 2 a day – from 1st March until 31st May.  One pair of tickets will be won by the top seller, with remain qualifying waiters being entered into a draw.
"This competition brings together the culturally diverse society of the UK with their shared passion for cricket," said Viiking Ventures MD Ben Parmar, "This promotion is designed to reward our brand ambassadors, the hard-working front of house staff, who are educating the public about the pleasures of drinking our authentic Indian craft beer."
The incentive is just one element of Viiking's sales strategy of supporting on and off-trade vendors.  The company has also ear-marked promotional funds to support restaurants' online marketing, charity nights, authentic gourmet dining events and the development of gluten-free menus.
The move comes within days of national press reports predicting the closure of half the nation's curry houses inside 10 years, because of restaurants' failure to engage in electronic marketing and develop healthier, authentic menus – according to Asian Catering Federation chairman Yawar Khan.
IPL
Goa Premium Craft Beer is also sponsoring this year's India Pakistan London Fashion Show 2017 (ILP) in conjuntion with MTV.  IPL showcases best in South East Asian luxury fashion brands, with hand-picked bespoke designers to an elite audience.  The boutique event takes place at Gibson Hall, London EC2 on Saturday, 4th March.