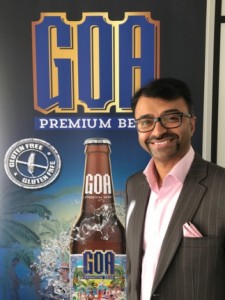 Goa's Ben Parmar
3rd February 2017
Viiking Ventures secures Booker and Makro distribution for Indian craft beer
Ben Parmar appointed as Managing Director
Hoshang Noria joins as Channel Controller
Within days of appointing Ben Parmar, the former Cobra Channel Controller, as MD of Goa Premium Beer importer Viiking Ventures UK, the company has announced that wholesalers Booker and Makro are to stock its craft beer.
The gluten-free pilsner is being trialled in 650ml bottles and 500ml cans for three months – at Booker outlets in Acton, Brighton, Croydon, Dagenham, Nine Elms, St Pancras, Sidcup, Southend, Medway and Wimbledon as well as Makro depots in Charlton, Enfield and Rayleigh – ahead of a decision whether to roll out the product nationwide.
Parmar has immediately beefed up the sales operation.  His first appointment is Hoshang Noria, former National Sales Manager at Kato Enterprises, of who also spent 12 years as a Regional Sales Manager for Cobra.
Parmar has also added a van sales team to call on independent high street retailers, which has had a dramatic impact on sales.  The company is currently recruiting additional sales people nationwide.
Outlining his sales strategy, Parmar said, "We know from feedback from the test restaurants, that there is an enormous demand for a premium imported beer, especially one that's gluten free.
"Today's more discerning diners want authenticity – and that applies to the drink as well as food.  Drinkers expressed a preference for a genuine imported beer, rather than one brewed in the UK under licence."
With a craft beer offering, Parmar believes that the successful route to market is not to launch with a massive consumer advertising push.  Instead, Viiking will focus its resources on supporting its resellers.
It has been widely reported that – despite growth in the eating out sector – the curry industry is struggling in the face of rising prices, chef shortages, increased competition and changing customer demands.
"Although Goa Premium Beer is positioned as a 'world beer' rather than one just to be enjoy with a curry, the UK's 10,000 Indian and Bangladeshi venues are a key market for us," added Parmar.
Viiking has set aside marketing funds to support restaurant promotions such as charity nights, authentic gourmet dining events and the introduction of gluten-free menus.
The company is also looking to support the sector's hard working front of house teams, with a unique 'Brand Ambassador' scheme which will incentivise front line employees at the point of sale, to generate awareness amongst their best customers.
Parmar hopes to be able to show how restaurateurs, with Goa's backing, they can achieve the all-important 15 percent rise in sales which will double their net profit."
Goa Premium Beer with a 4.8% ABV gluten-free beer, sells on trade for between £4.50 – £4.95 in bottles and off-trade at c£1.40 in 500ml cans.
Goa Premium Beer is brewed in Goa by the family-run boutique Impala Distillery & Brewery, which was acquired in 2015 by Bollywood actor and film producer Sachiin Joshi.
Viiking Ventures UK Ltd, Basepoint Business Centre, 272 Field End Road
Eastcote, Middlesex HA4 9NA
T:  0203 752 6737 Tw @GoaBeerUK E:  info@viikinghventures.co.uk