20th July 2016
Cobra beer creator Lord Bilimoria has responded to the British Beer & Pub Association (BBPA) calls for a new Indian visitor visa to boost UK tourism.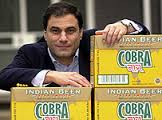 "For centuries, the UK and India have shared deep economic and cultural ties and the two nations have a long and important history of trade and enterprise," said Bilimoria following the Brexit voted and added, "It is now more vital than ever Britain sends a strong message to the world that it is still open for business, and its trading relationship with India is absolutely pivotal to that message.
"The British brewing and pub industries in particular are enormous beneficiaries of overseas tourism and any steps to encourage more visitors from India – and indeed across the world – would be hugely welcome."
More Indians are travelling abroad than ever before, with numbers growing 10% year-on-year. Despite this, fewer Indian tourists have been coming to Britain during the past ten years, with France becoming the top European destination for more than 500,000 visitors a year. Seven out of ten overseas tourists visit a pub when in the UK.
Lord Karan Bilimoria CBE, DL is the founder of Cobra Beer, Chairman of the Cobra Beer Partnership Limited and of Molson Coors Cobra India, both joint ventures with the global brewing company, Molson Coors. He is the Founding Chairman of the UK India Business Council.
Karan was born in Hyderabad, India. He  moved to London on a scholarship. Having qualified as  a chartered accountant, he then graduated in law from the Cambridge University. During his time at Cambridge, Karan was a member of the university's polo team and organising their first ever tour of India. During the India tour Karan began importing  Indian polo sticks and other products into Britain.  At this time, in 1989 he had the idea to create a unique Indian beer that had 'the refreshing qualities of a lager' combined with the 'smoothness and drinkability' of ale to go alongside Indian food.
At the time, it was imported to Britain, and distributed fifteen cases at a time by Karan himself in a battered old Citroen 2CV. .
Molson Coors bought a controlling interest in Cobra 2011, which is now brewed in the UK.