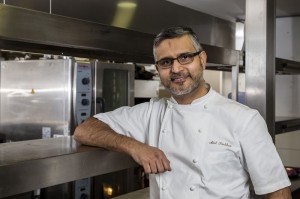 8th February 2017
Twice decorated Michelin-starred Chef Atul Kochhar has annnounced his 2017 Chef Season where he welcomes fellow chefs into the kitchens of Sindhu and Indian Essence.
Each month diners will experience a collaborative six-course Tasting Menu created by Atul and celebrated names in the culinary world.
Each chef will present three dishes alongside three from Kochhar, who said: The mix of skill, passion and creativity is outstanding. Here are chefs who, like me, promote and encourage seasonal British ingredients as well as Indian, Italian and South Asian. It's important for me to adapt and adopt – cultures, cuisines, ingredients, everything. To bring diverse cultures closer, this is what food is about and these chefs understand and demonstrate these same important principles."
These include Birmingham born chef Aktar Islam from the Lasan Group;  Pings pantry chef Ping Coombes, who grew up in Ipoh in Malaysia, a city renowned for its street food and exotic Malaysian cuisine; Master Chef winner Jane Devonshire; former head chef for Heston Blumenthal, Dominic Chapman from The Beehive Pub & Restaurant who travels to India to spends two weeks cooking in a restaurant; and Bombay-born Parsee chef Cyrus Todiwala of Café Spice Namasté and Mr Todiwala's Kitchen.
Details at www.sindhurestaurant.co.uk and www.indianessence.co.uk