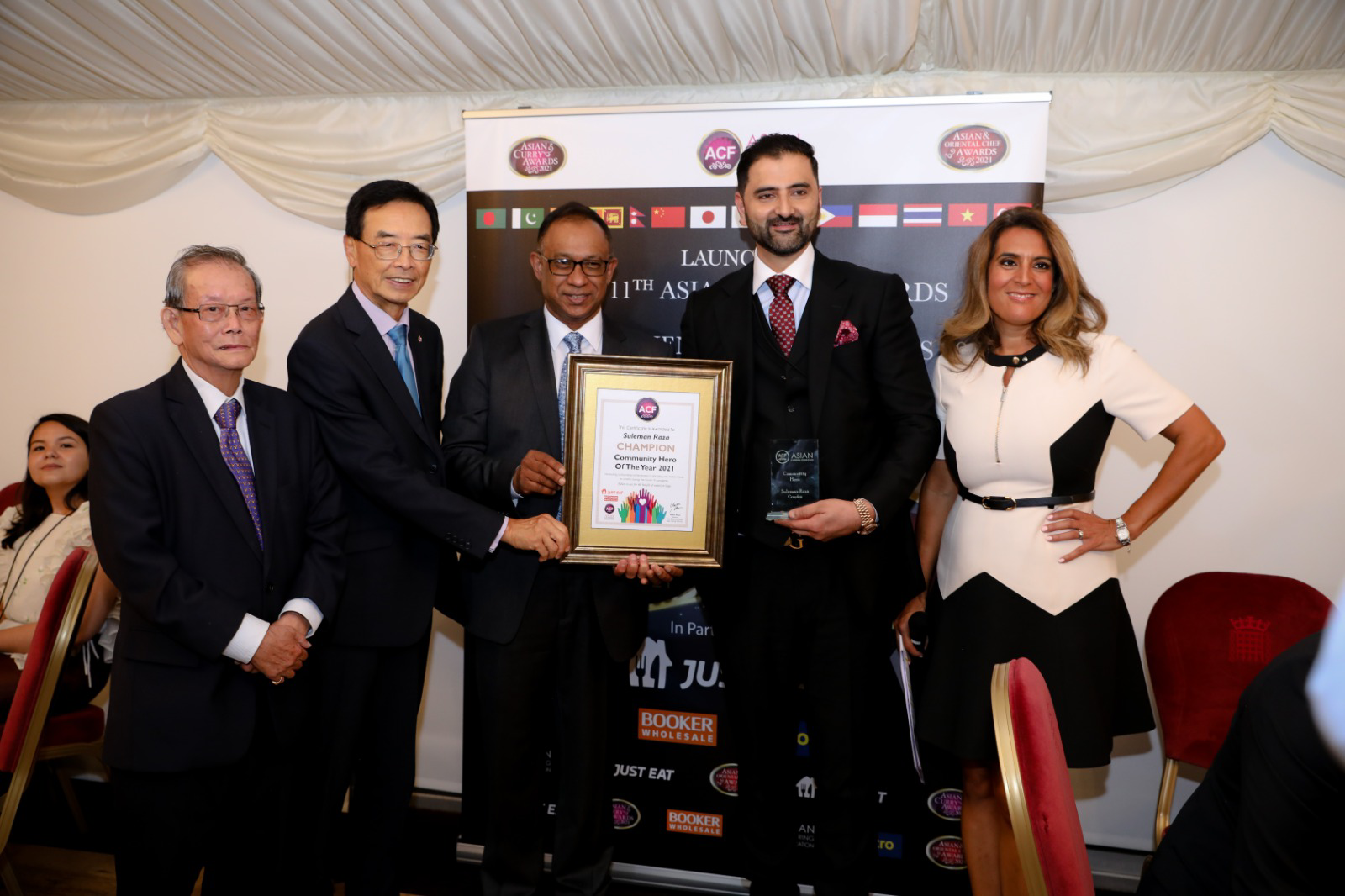 9th September 2021
Special recognition for charitable works
Baron Sheikh hosted the launch of the 11th Asian Curry Awards, at a special dinner with TV news anchor Samantha Simmonds, at the House of Lords on 7th September.
Overlooking the River Thames, the Asian Catering Federation function supported by Just Eat was attended by a select VIP audience of politicians, embassy dignitaries and top restaurateurs.
The evenings saw the presentation of Oriental & Asian Chef Awards to the winning entrants of a live cook offer event held in June: Mohamed Najib Ali of the Mayar Bar & Restaurant in Atherstone; Kamrul Hoque of Kushi in Romford; Humayun Rashid of Kushi in Grays; Chak Fung Chan of Golden Dragon Cardiff; Daya Sharma Heritage Dulwich, Mohammed Al Amin Ali, Millennium Balti, Royal Leamington Spa; Maratree Melross, Guard House, Royston; Denny Yang, Mandarin Palace, Hornchurch.
There were also special awards for a key individual for their outstanding contributions to their local communities.
102-year-old Dabirul Islam Choudry MBE, founder of Yum Yum Thai restaurant in London's Stoke Newington, received recognition as Champion Global Fundraiser for raising over £1 million for Covid-19 relief, by walking 970 laps of his garden in East London whilst fasting during Ramadan.
There were also a number of Community Hero awards. These went to:
Sharif Uddin, owner of DUSK and Kushi restaurants in Essex, was named Local Community Hero for donating over 15,000 meals to frontline NHS staff, key workers, the elderly and vulnerable.
Suleman Raza, founder of Spice Village hospitality business based in South London, was rewarded for his 'One Million Meals' campaign for NHS workers.
Mahboob Hussain owner of Royal Nawaab in London and Manchester was commended for services to charity
Sheikh Mamun owner of Panache in Elgin in Scotland provided over 500 free meals to NHS staff during lockdown.
ACF chairman, Yawar Khan said these awards acknowledged the generosity of hospitality the Asian hospitality sector in the face of a global pandemic. "Despite the hardships of lockdown, with so many personal tragedies and severe business disruption – the kindness show was immense."
Andrew Kenny, Managing Director of Just Eat UK, headline sponsors of the awards said, "Just Eat has worked closely with the Asian Catering Federation for a number of years. As we begin to recover from the pandemic, I'm delighted to celebrate our partnership by helping to recognise the fantastic achievements of those in our industry who have worked tirelessly through the last 18 months and continue to do so."
The Asian Curry Awards will take place at London's Grosvenor House on 21st November The awards are open to all Bangladeshi, Burmese, Chinese, Filipino, Indian, Indonesian, Japanese, Korean, Malaysian, Middle Eastern, Pakistani, Singaporean, Sri Lankan, Thai, and Vietnamese restaurants and takeaways. Spice loving members of the public can nominate their favourite restaurants via: