20th November 2017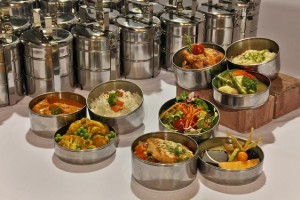 Announces Tiffin Club with reusable containers
Yawar Khan, the Chairman of the Asian Catering Federation (ACF), which represent the interests of 35,000 restaurants and takeaways in the UK, has given a guarded welcome to Chancellor Philip Hammond's proposal to introduce a levy on single use plastic packaging.
On Wednesday, the Chancellor is expected initiate a debate into the issue which Greenpeace has deemed "a global emergency".
However, Khan is calling for any new tax to be kept to a minimum and for assistance to tackle the severe problems facing the curry industry – staff shortages, rising business rates and the high rate of VAT on the hospitality sector.
"We need to reduce the problem caused by plastics, which are polluting the oceans and poisoning our marine wildlife," said Khan, adding, "The 5p tax on plastic carrier bags has been sufficient to cut their usage by 85% so a new surcharge will not need to be excessive to bring about a change in customer behaviour.  Like shops, restaurants need to pass the cost on to customers, and stop absorbing it."
The packing on a typical family takeaway order costs the restaurant owner around 25p.  Busy takeaway restaurants can easily spend £5,000 to £6,000 on single-use packaging a year.   
In addition to encouraging takeaway owners and their customers to reuse plastic containers, the ACF has announced it is pushing members to introduce their own 'Tiffin Club', using multi-use tiffin tins, which have long been popular in India.  Takeaways will simply charge a small deposit with their first order, which are then swapped on subsequent orders.
Tiffins are a set of 5 or 6 interlocking metal containers, with a carry handle.
The ACF will be offering to supply its members with tiffins which are ubiquitous in Indian cities and at railway stations along the country's 40,000 miles of tracks.  India has one of the longest rail networks in the world.  The introduction of the railways by the British during colonial times, saw the advent of 'Railway' mutton and chicken' dishes served in tiffins.  The dishes can still be found on some UK curry house menus today.
"Tiffins, which will eliminate plastic waste and keep takeaways warm, are an ideal opportunity for restaurateurs to introduce new, healthier options authentic Indian sharing dishes, being demanded by customers," said Khan.
The ACF says that burger and pizza takeaways are more of a problem in terms of litter and points out that polystyrene boxes, unlike plastic, cannot be recycled.
The Federation is lobbying government to introduce temporary 2-year work visas for chefs from former Commonwealth countries to tackle acute staff shortages.
Curry lovers can nominate their favourite Asian restaurant and takeaway in the ACF's Asian Restaurant Awards, being held in Manchester on 12th February via www.acfederation.org/asian-restaurant-awards-2017-nomination-form.