5th February 2019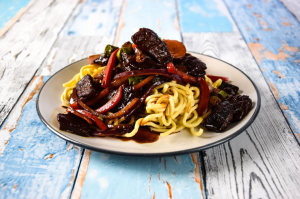 Asian Style Wild Boar
Wild and Game is urging people to include "lean, high protein and delicious" game  in their diets.
Game birds such as pheasant (which originated in India), partridge and grouse contain less fat than chicken, more protein and lower cholesterol, while wild boar (a Goan delicacy often served as vindaloo)  is higher in protein and lower in saturated fat than beef.
"Game is in plentiful supply in the UK but many people still lack confidence when it comes to using it," says Steven Frampton, who co-founded Wild and Game with Michael Cannon a year ago. "Our mission is to get more people in the UK enjoying game by highlighting how healthy, delicious and easy to use it actually is."
Wild and Game have released two springtime recipes  for cooking with its wild boar steaks.  The company also stocks a broad range of game pies, pasties and ready meals.
"We've been working with our development chefs to perfect these recipes and we're delighted with the results," said Frampton, who added,  "Our products arrive frozen, making it easy to enjoy them all year round, not just in game season. If you are watching your intake of fat or seeking to consume more protein, game is an excellent choice.