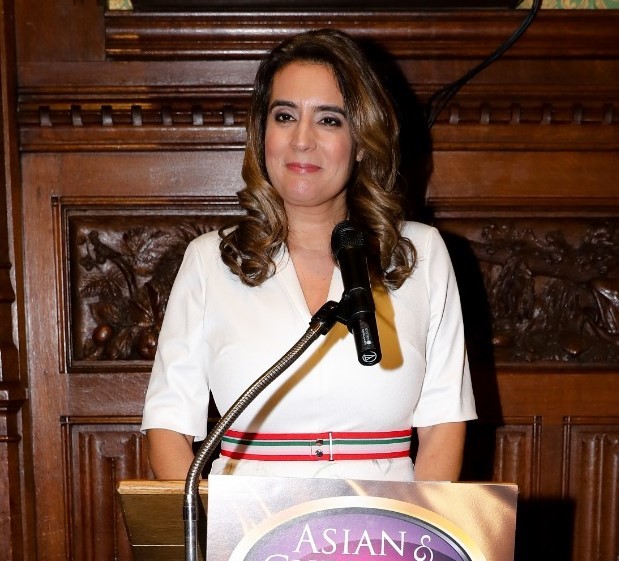 21st August 2021
Following huge media interest this year's Asian Catering Federation awards, it has been announced that TV news anchor Samantha Simmonds will host three of its prestigious award ceremonies this year.

Samantha will host both the Asian Restaurant Awards events – in Manchester on 31st August and in Edinburgh on 20th September. In between she will also present the Asian & Oriental Chef Awards at the House of Lords on 7th September – which will also be used as the launch platform to launch this year's Asian Curry Awards at the Grosvenor House in London on 21st November.
Such is the interest in ACF events sponsored by Just Eat and Booker, the announcement of the Asian Restaurant Awards shortlist in Manchester has already been reported by no fewer than 30 different media outlets, locally, nationally and internationally.
ACF Chairman Yawar Khan has urged finalists to make the most of their award nominations: "Those that promote their shortlisting invariably receive a huge upturn in trade and its not unlnown for eventual winners who publicise their success, to double their takings for months to come after receiving their prestigous accolade.
"Sadly, too many past winners have wasted their opportunity," he said.
The ACF's PR consultant George Shaw, CEO of hospitality specialist Avocado Media explained: "Many Asian restaurateurs see marketing as as unnecessary cost, rather than an investment that can reap great returns," adding, "In reality, it's the empty tables that cost money – as a mere 15|% increase in trade can often double profits, as so many restaurant costs are fixed."
Samantha has been a popular guest at ACF awards over the years. She is an award winning broadcaster, influential blogger, corporate host and motivational speaker. She has been a journalist and broadcaster for more than 20 years – she is currently presenting on BBC World News. She speaks at City firms, schools and motivational events about , juggling work and motherhood, fake news and Brexit. Samantha was the recipient the 2017 international All Ladies League Women of Excellence award presented in the House of Lords by Baroness Hussein-Ece and Baroness Jenkins.
The awards are supported by Just Eat and Booker Wholesale.
FOOD NEWS: ASIAN RESTAURANT AWARDS SHORTLIST ANNOUNCED – Ria Amber Tesia
https://www.stokesentinel.co.uk/news/stoke-on-trent-news/north-staffordshire-curry-house-running-5831647
https://www.leicestermercury.co.uk/whats-on/food-drink/leicestershire-restaurants-make-final-cut-5828251
https://www.birminghammail.co.uk/whats-on/food-drink-news/birmingham-restaurant-been-named-among-21396944
https://www.mylondon.news/whats-on/food-drink-news/5-best-asian-restaurants-london-21351407
https://curryculture.co.uk/asian-restaurant-awards-shortlist-announced/
https://www.wntv.uk/asian-restaurant-awards-shortlist-announced/
https://twnews.co.uk/gb-news/these-lancashire-restaurants-have-been-shortlisted-at-national-awards
https://www.warringtonguardian.co.uk/news/19518687.bhaji-fresh-latchford-asian-restaurant-awards-shortlist/
https://www.ilfordrecorder.co.uk/news/business/grand-trunk-road-shortlisted-for-asian-restaurant-awards-8260112
https://www.dailyadvent.com/gb/news/c4110f76adeed3c6ea676254f7a292a4-Three-Wrexham-eateries-honoured-as-the-Asian-Restaurant-Awards-shortlist-is-revealed
https://www.chesterstandard.co.uk/news/19518957.chester-restaurant-nominated-top-honour-asian-restaurant-awards/
https://www.romfordrecorder.co.uk/news/kushi-nominated-for-asian-restaurant-awards-8220002
https://www.denbighshirefreepress.co.uk/news/19521167.good-news-wrexham-caernarfon-asian-restaurant-awards-shortlist-announced/
https://www.leaderlive.co.uk/news/19521147.good-news-wrexham-caernarfon-asian-restaurant-awards-shortlist-announced/
https://www.romfordrecorder.co.uk/things-to-do/food-reviews/tandoori-lounge-nominated-for-asian-restaurant-award-8261396
https://www.essexlive.news/news/essex-news/family-owned-essex-restaurant-chain-5759291
https://food4media.com/Pressrelease/ViewPressrelease/100083012
https://www.tigerrockliverpool.uk/blog/
https://flipboard.com/topic/northernireland/three-northern-ireland-eateries-shortlisted-for-asian-restaurant-awards/f-a9a5649c53%2Fco.uk
https://cenemagazine.co.uk/news/2021/6/4/asian-awards-2021-restaurant
https://twnews.co.uk/gb-news/two-liverpool-restaurants-shortlisted-for-national-restaurant-awards
Barry Restaurant Shortlisted For South Wales Award | Bro Radio 98.1fm & 100.2fm
These Lancashire restaurants have been shortlisted at national awards | Lancashire Telegraph
https://www.belfasttelegraph.co.uk/business/food-drink-hospitality/three-northern-ireland-eateries-shortlisted-forasian-restaurant-awards-40762584.html