17th March 2017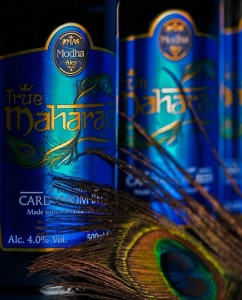 Modha Ales have introduced True Maharaja, a  handcrafted beer inspired by classic eastern flavours and made using entirely natural ingredients, including real cardamom pods.
It is described as " delicately balanced, with a warm amber colour and white foamy head . . . enhanced by cardamom's spiced peppery notes which bring to the beer an aromatic, resinous fragrance, slightly smokey with a subtle mint finish."
Cardamom, sometimes used for its medicinal benefits, is also a key ingredient in Nordic baking.
Bhavesh Modha, director of the business, says: "With the recent boom in UK craft beer production, we've seen a rise in the level of knowledge and authenticity that consumers seek in their food and drink. True Maharaja's versatile and fresh flavour gives it an edge which resonates well with adventurous beer lovers open to new taste experiences and interesting food matching possibilities."
True Maharaja is 4% ABV and available in 50cl format. It is currently available in leading restaurants such as the Michelin-starred 'Tamarind of Mayfair'.