15th September 2016
Michelin-starred chef Atul Kochhar has introduced a street food-style menu at his Benares Anglo-Indian fusion restaurant in Mayfair.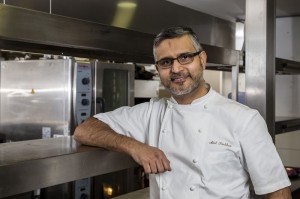 Each of the five new dishes on the menu has been created by a different  chef from Benares's kitchen and is inspired by the street food speciality of their home town.  Each region of India has its own distinct recipes that have been passed down through the generations.  Benares' street food menu pays homage to these time-honoured dishes, and is faithful to original cooking methods and preparation techniques.
The dishes have been designed to be eaten by hand, and are chicken tikka crispy naan with smoked tomato dressing (inspired by the Punjab region of north west India); lamb kofta roll with mint and coriander salad (typically found in Lucknow, north east India); grilled curry leaf sea bass and seasonal salad (a southern Indian dish found in Goa); quinoa salad, samphire and red onion bhajia (from the east Indian region of Kolkata); and pickled prawn with crispy rice pani puri (a speciality from Mumbai, west India).
The menu is available until Christmas.