19th April 2017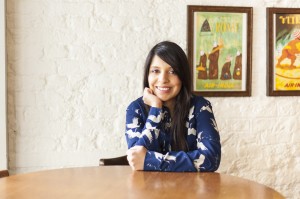 Bindu Patel
What's it like to work in one of the world's top kitchens?
Incredibly intense, but so incredibly wonderful at the same time! I am Chef De Partie at Gymkhana.  I work on the pass, garnishing and checking food with the Head and Sous Chefs before it is sent to the customer. I'm also on pastry from time to time. You learn so many different skills and ways to cook fresh, unusual produce in such a rapid amount of time whilst working in a Michelin star restaurant.
Describe a typical working day.
Well, my favourite time to be in the kitchen is early in the morning. The kitchen is cooler and quiet and you really get to enjoy the gradual build-up of the day, reaching the busy and intense climax of service at lunchtime!
The smells, sight, touch and taste of fresh produce delivered in the morning is unbelievable, especially at Gymkhana. Imagine the heady scent of fresh herbs, fragrant flowers, sweet fruit and savoury vegetables mingling with aromatic, exotic spices from faraway lands. At the same time, someone will be appetisingly frying onions, garlic and ginger. As you walk past pastry a comforting cloud of chocolate, sugar and butter will descend over you. Fresh bread will be made and baked every morning … simply divine!
What do you do on your day off?
Working in a Michelin star restaurant is a fantastic opportunity, but it can also be incredibly stressful, so I like to blow off steam by walking for miles in the countryside with my two dogs. I also love spending time with my family and believe it or not, cooking! I also like reading, writing and catching up on all the television programmes I have missed whilst at work!
Who taught you to cook?
All the food greats – Keith Floyd, James Martin, the Roux family, Rick Stein, Delia Smith, Madhur Jaffrey, Ken Hom. I grew up watching cooking programmes which I loved as a child and it all just sank in! When I was old enough, I just started cooking and experimenting with different ingredients and I haven't stopped since. However, I don't think you ever stop learning when it comes to making food. There are so many different skills and techniques, both old and new, and so many ingredients to discover and work with so you never get bored in this job!
Who do you most respect in the industry?
I completely respect everyone I have worked for, I have learned so much from them all and I do have a lot of food heroes, namely Dominique Crenn, Daniela Soto-Innes, Nisha Katona and Sabrina Gidda, Sabrina Ghayour, Delia Smith, Madhur Jaffrey and Mary Berry. However, Michel Roux Junior at Le Gavroche was the first chef to ever welcome me into his kitchen. I have such great respect for him. He really inspires and encourages women in his kitchen. In fact, the head chef there, Rachel Humphrey, is also an amazing chef. The ingredients they work with are traditional French, timeless and classic but so modern and fresh. The dishes are deliciously decadent!
Not many professional chefs have law degrees.  How comes you're working in a kitchen for a living, rather than in the legal profession?
I have always had a great bond and relationship with good food from a very young age. My parents thought I should have a good degree behind me so I did that but nothing could stop the passion and love I have for food, so I followed my dream and became a chef!  My ethos is you can do and be anything you want – just work hard, focus and believe!
How does your background in farming affect your approach to cooking?
Farming is in my blood and my family have owned farms for generations, particularly huge coffee farms in Kenya. I used to work with a herd of dairy cows, but also with a wide range of animals including rare breeds. My surname is 'Patel' which means farmer/land owner in the Indian state of Gujarat. Farming for me means that food should be of the best quality, not quantity, and should change with the seasons – seasonality is fundamental to ensure you always get the freshest produce/ingredients at their peak and at their very best. I very much believe in using agricultural methods that are environmentally friendly, organic and free range where possible. 
For me, it has always been essential that the countryside and wildlife there should be protected and it is important to know exactly where food comes from.
I do my best to practice ''nose to tail'' eating, using the whole ingredient, ensuring there is respect for food and minimum wastage. Some absolutely stunning dishes have been made where food is prepared in this way. I also believe in eating local food, supporting local farmers and businesses. I believe in assisting farmers who raise rare breed animals by eating them and that we all, as farmers, chefs and consumers/customers have a responsibility for securing the future of rare breeds in farming and food.
Does your parents' heritage effect your style of cooking?
My family have always been such a huge inspiration when it comes to food. My mother was born in Malaysia and my father was born in Kenya, yet my grandparents are Indian. I was born and bred in multicultural Leicester, so I have grown up with a huge variety and different styles of dishes from oriental, Kenyan Indian, Malaysian and a variety of Indian cuisine too of course, as well as British food!
 I was always brought up to eat and try everything and I am not at all pedantic about what I cook or eat, my mood changes all the time but it must be good! I do particularly like Middle Eastern, Greek, French and Mediterranean food. However, cooking and balancing flavours and spices in Indian cuisine, I believe is a real art and skill.
Indian and Bangladeshi restaurants are closing at the rate of two a week, despite a growth in the dining out and takeaway sectors, overall.  What's your advice to restaurateurs and chefs whose business is under performing?
To be honest, in my own opinion, I believe the industry as a whole, not just Indian and Bangladeshi restaurants, seriously needs a really good shake up and change in attitude. Restaurants are clearly closing for valid reasons – because they are still stuck in the Dark Ages, a time long gone by. Menus are unnecessarily long and complex and food is focused on quantity rather than good, fresh, quality. People's eating habits are changing and we are more health conscious now, which is great. I was born in the '80s when MSG, food colouring, flavouring and 'gloop' in food was all the rage, which I absolutely detest! Indian food should be fresh, exciting, different, clean tasting and like the Indian Ocean – crystal clear wave after wave of layered exotic spice and flavour! Original Asian cuisine is naturally beautiful and colourful. It just needs to be allowed to speak for itself without being interfered with.
You commute from Leicester. What's the dining scene like in your home city?
Leicester is incredibly multicultural and there is a wide variety of fantastic, quality food available here. I am so proud of my home city because of this. You can go out and eat anything you like from anywhere around the world and find local fresh, quality produce many of which Leicester is historically well known for like cheese, meats, including venison. For me though, London is the place to be when it comes to really knowing and learning about food. It is where most of the best restaurants and Michelin stars are!
In most south Asian homes in the UK, it's the women who do the cooking.  So why are so few working in restaurants?
You know, I just don't understand this, especially now in the year 2017! If you ask most chefs, it will be their mother, grandmother or aunt who makes the best dishes and inspired them yet the restaurant kitchen across all cultures has been a male dominated environment. The significant lack of women in kitchens, I believe, is an international problem and I see it as a great shame. Personally, I feel the industry as a whole needs to be more open in discussing the challenge and look towards making changes that leads the way for more young women to become chefs.
Many women are now beginning to brilliantly step up to the plate and are defiantly, yet humbly revolutionising the way food is made, which is great to see. There are numerous remarkable female chefs and restaurateurs who are thriving and going from strength to strength, but I still feel as though it is still an ongoing battle. The industry needs to see the real value and successes of female chefs. In my opinion food only tastes great if there is inspiration, pride, love and joy in the people who have made it. A happy team, working together and striving for united perfection is the best way to create a beautiful plate of food in my eyes, and this ultimately means happy customers!
 What is your signature dish?
Golden Goan Saffron risotto with chilli tiger prawns and pink Himalayan rock salt with a lime and coriander chutney.
What is your favourite piece of kitchen equipment?
It goes without saying that my favourite and the sexiest equipment in the kitchen for me are knives! I have a large arsenal of knives and I collect and hoard them like crazy! I love nothing more than sharpening and cleaning my set, keeping them in tip top condition. They are my pride and joy!
What's your advice to young girls at school who want to join the catering sector?
My advice is for young girls AND boys! ALL children, should learn and be taught how to cook healthy, delicious food and well. It is such a crucial life skill even if they don't want a career in the kitchen. For those who do, they should most definitely be motivated, encouraged and supported, especially women at a time when there are so few in the industry. Children should be taught at a very young age where food comes from, including how meat is killed and butchered, the truth and reality of food. They should be inspired to eat adventurously, try something new every day, even if they don't like it! Also, one should not be restricted to cooking the food of their culture. Anyone can cook anything they like! That is the fun, magic and beauty of food. It is an art that everyone should and must participate in. We all need to eat so why not eat well?! Food does not see colour, race, gender or disability. It is for us all and we have a duty as a society to respect that, educate and shout this message from the rooftops!
If you were in the condemned cell, what would you chose as your last meal?
That's rather a tragic and cruel question to ask a chef! Food is a chef's personal journey, their battle and struggle, their joy and glory, their Everest where they never really manage to get to the top. Most chefs live, breathe and persistently search for that one special dish. To be told that it will be your very last meal is heart-breaking…Although I am very tenacious and I think I will probably still find a way to keep cooking in the afterlife! However, IF I was forced to decide, I would hands down choose my dad's chicken curry and Shahi Paneer, made by him only and to finish, my very own Tiramisu. I was raised eating and loving these dishes and each mouthful holds such fond memories of my childhood so I think it is only fitting that I end my life with food that is so close to my heart.
If Yawar Khan pays, where shall we have lunch/dinner?
If Yawar Khan is paying, you can come and eat at my house! Ha! Ha! No, seriously and this is not a biased opinion at all, you should really visit Gymkhana for lunch or dinner. The food here is absolutely mouth-watering and so beautifully balanced. The Muntjac Biryani is out of this world and the atmosphere in the restaurant itself is so urbane and original. The cocktails are very sophisticated, and made by some of London's finest bartenders – so they are to die for!
Gymkhana
42 Albemarle Street, London W1A 4JH
T:  020 3011 5900 E: info@gymkhanalondon.com W: www.gymkhanalondon.com