21st February 2018
Palm Pan Asia – Gandhi – The Shapla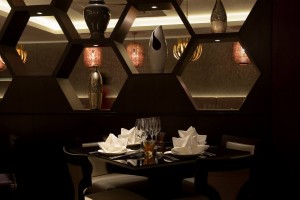 Three Palm Group restaurants in Hampshire have been shortlisted for the Asian Restaurant Awards, where the winners will be announced at a glittered ceremony next month. The Palm Pan Asia and Gandhi Indian Restaurant, both located on the city's High Street, and The Shapla in nearby Alresford, will join the nation's other top Asian restaurants at the star-studded awards dinner.
The three shortlisted venues are part of the small family-owned Palm Restaurant group. The two in the centre of the city are managed by restaurateur Fahim Meah.  Other eateries in the group are Goa Balti in Everleigh near Marlborough, Palm Indian Restaurant in Froxfield near Marlborough (the flagship) and Thai Lounge in Ropley.  A sevemth member of the group in Deane near Basingstoke (provisionally named The Palm Brasserie) set to bring international cuisine with an Asian twist, is due to open June.
"I'm honoured to have three of our restaurants nominated for such prestigious accolades," said Meah, adding, "I'm thrilled for our dedicated, hardworking teams and truly thankful to our loyal customers who voted for us."
Commenting on the Palm Pan Asia, a judge said, "An impressive pan-Asian gourmet experience, building on classic Thai dishes, is complimented by an adventurous South-East Asian menu of interesting taste combinations, expertly rendered."
Of its neighbouring Gandhi Indian Restaurant, which first opened its doors in Winchester 30 years ago, the judge said; "The menu featuring such delights as wood pigeon, beef ox cheeks and spice crusted venison sets it apart from its rivals in the city. This is some of the best fine Indian dining I've encountered away from the Michelin-starred gourmet restaurants in London."
Executive Head chef and Manager Ruhul Chowdhury (Gandhi) and Head Chef Amnart Ubonrat (Palm Pan Asia) have also been nominated for the Asian & Oriental Chefs Awards being hosted by ACF at the House of Lords on 13th March.
www.theshapla.co.uk   www.palmpanasia.co.uk  www.gandhirestaurant.com