15th May 2016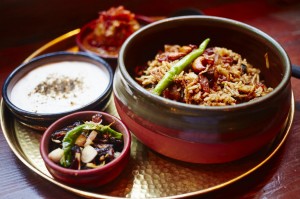 Hoppers
Karam, Jyotin and Sunaina Sethi  have opened Hoppers 36 cover restaurant inspired by the family home cooking and roadside boutiques of Tamil Nadu and Sri Lanka, with the hopper and dosa at the heart of the menu.
The interiors, feature warm terracotta tiles, a woven rattan ceiling and ochre brick wall finishes. Raksha masks – the vibrant demon faces used widely in Sri Lankan festivals and dances to ward off evil – Sri Lankan poster art and Tamil comic imagery.
Hoppers' namesake dish is traditionally made with a batter of ground white rice and coconut milk. Cooked in a wok-type vessel known as an 'appachatti,' the batter forms a bowl shape pancake with a spongey centre and crisp edges.
The Sethis are behind JKS Restaurants which own some of the most renowned restaurants in London today, through their group. Together they co-own and run Michelin-starred Trishna and Gymkhana, with Karam Sethi looking after food and concepts, brother Jyotin as managing director and sommelier sister Sunaina curating the wine. Gymkhana became the first Indian restaurant to win the BMW Square Meal Restaurant of the Year award, was named the 'UK's Best Restaurant' in the National Restaurant Awards 2014 and 'Best Indian Restaurant' in 2015. Gymkhana was also awarded the Tatler Restaurant Award 2015 for Best Kitchen. JKS Restaurants also includes Bubbledogs, Fitzrovia; the Michelin-starred Kitchen Table, Fitzrovia; the Michelin starred Lyle's, Shoreditch, and Bao, Soho.
www.hopperslondon.com
Dining Rooms
Memhet Hassan is investing £1.5m to transform a landmark Essex building into a Turkish restaurant. Hassan, who owns the Dining Rooms, in Leigh, is ploughing the seven-figure sum into renovating the former Ocean City Chinese in The Ridgeway, Chalkwell, Southend. He said he wants to transform the dated building into a "palace". It will have a 100-covers downstairs, a 26-seat mezzo-themed area upstairs, for lighter meals and a cocktail bar. The new restaurant is scheduled to open in November.
Raj of Kensington
Inspired by the colonial rule of Indian which asd fro 1858 and 1947, Raj of Kensington, has opened in Kensington, west London. The new restaurant serves dishes such as Ajwani Jingha, a tandoori-style jumbo prawn dish with origins from Jaipur, and Achari Hiran, a venison dish from Bhopal. With a background in fine dining, owner Salim Sheikh opened his personal wine cellar for use at the restaurant in Abingdon Road. The restaurant also offers Jodhpur gin gin-based cocktails.
The Vine
Essex-based Turkish restaurant and gastro bar concept The Vine has opened in Brentwood – its second site. The company, owned by brother and sister duo George and Marianna Artemi, has launched in the High Street on the site of Suite 104, which closed in January. The Brentwood venue serves breakfast, brunch and lunch seven days a week and has a late-night bar on Thursdays, Fridays and Saturdays. The Vine's other site, in Leigh-on-Sea, opened in 2012.
Shoryu Ramen
Shoryu Ramen Restaurant Group, which specialises in Kyushu cuisine, from the southernmost of Japan's main islands, will launch its fifth London restaurant in Covent Garden and first restaurant outside the capital in Manchester – both in the summer. The restaurants will offer the brand's signature Hakata tonkotsu ramen, Shoryu buns and Gekkeikan Royal Warrant sake.
"As the British market has become more accustomed to noodles, we're able to introduce very specific dishes, such as Hakata tonkotsu ramen, for those looking for the real deal" said chief exec Shoryu Ramen.  Formed in 2012, Shoryu Ramen's other London venues are in Soho, Carnaby, Regent Street and Liverpool Street.
Royal Thai Taste
A new Thai restaurant concept has opened on the former Giggling Squid site in Crawley, West Sussex. Namthip Willcox, Natthaphan Phatthance and Duennapa Kemthong have launched Royal Thai Taste in the High Street next to The George Hotel. The trio has set up the business having previously run the kitchen at a pub in Newbury, Berkshire.
Shri Bheema's
Aberdeen-based Indian restaurant Shri Bheema's is expanding with four new UK sites. The company, which has two restaurants in Aberdeen, is opening two venues in Edinburgh and one each in London and Milton Keynes. The first new site will be at Gants Hill in London. That will be followed by its first Edinburgh site in Nicolson Street. The second site in the city will open later in the year in Constitution Street as will an outlet in Queensway in Milton Keynes.
Kashmir – A Culinary Paradise
Native Kashmiri husband and wife duo, Chef Rohit Razdan and Shweta Razdan have announce the launch of UK market. The brand brings  KashmirValley and New Delhi cooking to London when it  Paradise'  opens in London's Putney at the end of May. The brand started as a catering service, then nurtured into a mid market restaurant in New Delhi where the duo first set up shop in 1999. The restaurant moved to Singapore in 2007 and won over locals, tourists and celebrities including Jools Holland and Nikki Snelson