20th October 2016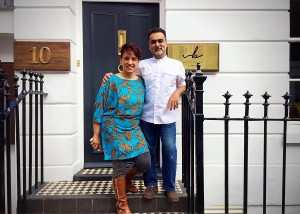 Set in a restored Georgian townhouse, Vineet Bhatia London (VBL) has opened on the site of the chef's former restaurant Rasoi at 10 Lincoln Street, near London's Sloane Square.
The menu offers between five and six courses, proceeded by a selection of delicate canapés and ending in a flourish of desserts. Marrying east and west, Bhatia's dishes are an accumulation of three decades spent pushing the possibilities and challenging the perception of his native cuisine.
The dishes at VBL identify with a childhood and nostalgia of India. The canapés, including Sago papad and Aloo-yoghurt chaat hail back to the street vendors of Mumbai. The following courses – which include smoked salmon, white tomato butter chicken and coffee lamb chop – showcase Vineet Bhatia's respect of the traditional flavours of India, but with a delicate and intricate touch. A full vegetarian menu is also on offer with dishes such as aubergine steak and beetroot cashew tikka. Both menus can be enjoyed alongside a flight of matching wines.
Born in Mumbai, Vineet Bhatia moved to London in 1993, to evolve his modern approach to Indian gastronomy.
The London of that era offered a limited outreach for Indian cooking, with many establishments serving a cuisine of ambiguous authenticity.  Despite gaining respect from his peers, a successful restaurant and global acclaim, it wasn't until 2001 that Vineet became the first Indian chef to receive a Michelin star, for restaurant Zaika in Kensington.
Today Vineet Bhatia has a successful portfolio of 10 restaurants including in Geneva, Saudi Arabia, Dubai and Mumbai.
I never ever felt I had fully achieved what Rashima and I left India for", explains Vineet, "I was always held back by either financial restrictions in the early days, or by market perception of what box Indian food should sit in. Times have changed now; people are more inquisitive and more connected to food and more open."
The restaurant's main dining area – with 32 covers – is split between two rooms.  Guests must ring the doorbell on arrival to gain entry to  what feels like a private members' club.
The restaurant's also has two private dining rooms on the first floor; Lutyens which seats 12 guests and Wittet which seats 8.
The small bar between the downstairs dining areas offers a diverse wine list curated to compliment the stand out characteristics of Vineet Bhatia's cuisine.