31st October 2017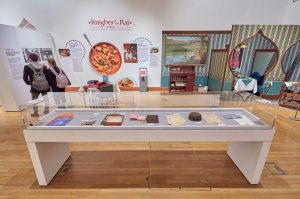 Britain is home to thousands of 'Indian' restaurants. They have been crucial in shaping the nation we live in.  The nation's way of life has been transformed by the hard work and dedication of British-Bangladeshis. However, many customers are unaware that it was the Bangladeshi community that pioneered this industry and Britain's 'curry culture'.
Soul City Arts has arranged Knights of the Raj, a ground-breaking Heritage Lottery Funded project, documenting the heritage and history of Bangladeshi-owned restaurants in Birmingham and the inspirational stories of the people behind them. The pioneers of this industry were first generation immigrants whose stories had not previously been collected, preserved and shared.
The untold stories of the Indian restaurant trade give a fascinating insight into the curry trade. The exhibition brings out unexpected and previously undocumented stories of "struggle and conflict, determination and perseverance, and hope and aspiration."
According to Mohammed Ali MBE, Artistic Director of Soul City Arts: "Through the Knights of the Raj project, I've gained a new appreciation for who my father was and the sacrifices his generation made. We've captured stories that were in danger of being lost forever. If you don't know the stories of who your parents and grandparents were, how do you get to really know who you are."
Soul City Arts has unearthed fascinating stories captured and recorded through interviews. There have also been donations of archive material from workers, families and communities. The project has also involved stories of the customers, all of this has helped to shape our understanding of the city and its people, challenging perceptions and showing our interconnectedness.
Knights of the Raj will make a significant and vital contribution to the city's archives and present a three-month long exhibition at Birmingham Museum and Art Gallery.
Over the course of the exhibition, Soul City Arts will also be hosting a series of debates and in conversation events, which will provide unique opportunities for visitors to meet the people behind the stories.
The exhibition has free admission and is on at the Birmingham Museum & Art Gallery in Birmingham until 7th January 2018.
If you are interested in working with Soul City Arts to stage an exhibition about the history of Bangladeshi restaurant heritage in your own community, email mohammed@soulcityart.co.uk
More information at www.knightsoftheraj.com